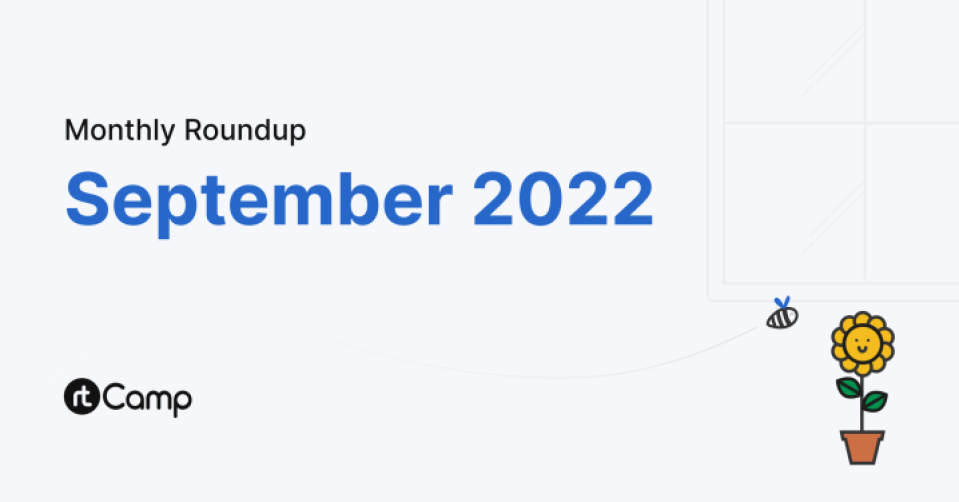 Hello there!
September went by in a blur, as we kicked off our series on Personalization on the Web. The idea behind the series is to present an overview of the current technological landscape in the WordPress ecosystem regarding web personalization.
In a couple of posts, we review a few prominent WordPress plugins that can be used to build out personalization on pages with first-party data. We also explore personalized web pages with Customer Data Platforms (CDPs), while aiming for better conversion rate optimization. It's all of our research, distilled down into two nifty tables, with more to come!
We hope that you may be motivated to craft an effective web personalization strategy for a better digital experience. We welcome your productive discussion on this, so comment below or get in touch.
We dusted off our travel gear and attended WordCamp US 2022. Rahul & Vivek joined Mervin & Paul in sunny San Diego for WCUS held from September 9th-11th. Mervin was an organizing member of the event and part of the Sponsors' squad, and Paul was one of the photographers for the event. Relive WCUS through Paul's photo album. 
We also attended Dreamforce held during September 20-22 in San Francisco, along with our friends from WordPress VIP.
Insights
News from Around the Web
Events
Water Cooler
Popular on our #watercooler Slack channel.
That's all, see you next month!
Links: Contact Us | We're Hiring!
---