This year's third major release, WordPress 6.1 "Misha" is here and is named after Soviet-Norwegian jazz pianist Mikhail "Misha" Alperin.
This is the 26th consecutive release with core contributions by rtCampers.
Props to Juhi, Kapil, Lovekesh, Manish, Milind, Pavan, Pooja, Rahi, Rinky, Shreyas, Tremi, and Yahil for their contributions.
Kudos to the contributions of more than 800 people in over 60 countries, who made this release possible.
WordPress 6.1 features
WordPress 6.1 adds features on several fronts, focussing on design, content editing, stability, performance, and usability. It also shipped about 60 updates to better accessibility.
Design tools are now more intuitive with granular control over typography, colors, layout, borders, dimensions, and spacing for customizing blocks. There's no more fuss of accidentally changing layout or style while editing text, thanks to the content-only feature that locks layouts while working on content. Adding on to the locking features, block-locking is now extended to inner blocks and is just a toggle & click away.
The site editor gets more options for creating custom templates. Menus can be edited easily with fallback options. Building on the intuitive editing experience, fluid typography for themes enhances responsive text rendering as per screen size, and in the same lines, 6.1 also supports fluid spacing with theme.json.
With 11 versions (13.1 to 14.1) of the Gutenberg plugin merged into the core, there are a handful of improvements like featured images in the cover block and enhanced list block, to name a few. Classic themes can now adopt native block-based editing with block template parts.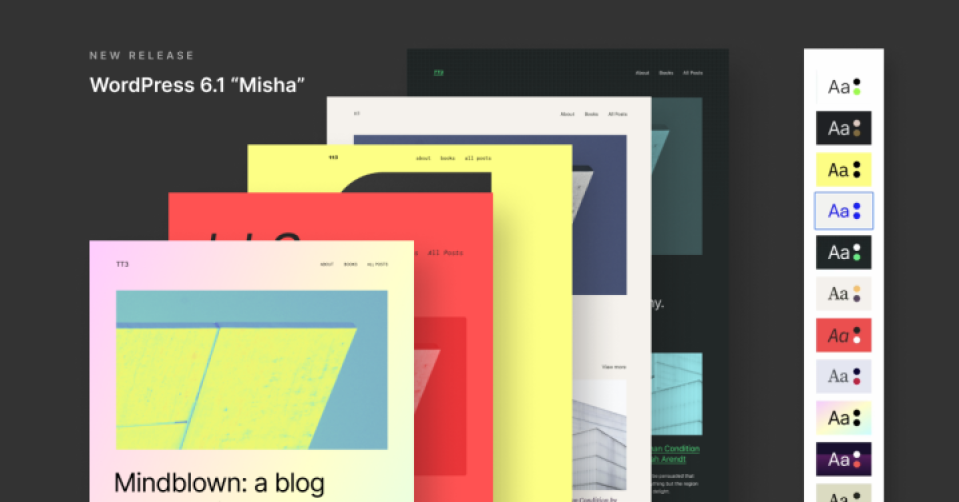 The new Twenty Twenty-Three theme comes with 10 unique, community-made styles. It's minimal with basic functionality, so you can easily take it for a spin and explore all the new features. It's accessibility-ready too like the previous one and showcases a unified view of site editing tools for effortless customization.
Check out the release post to read more on the host of enhancements and features. If you want to dig in further, check out these explainers and live workshops.

Links: WordPress 6.1 Release post | 6.1 Handbook | We're Hiring!
---