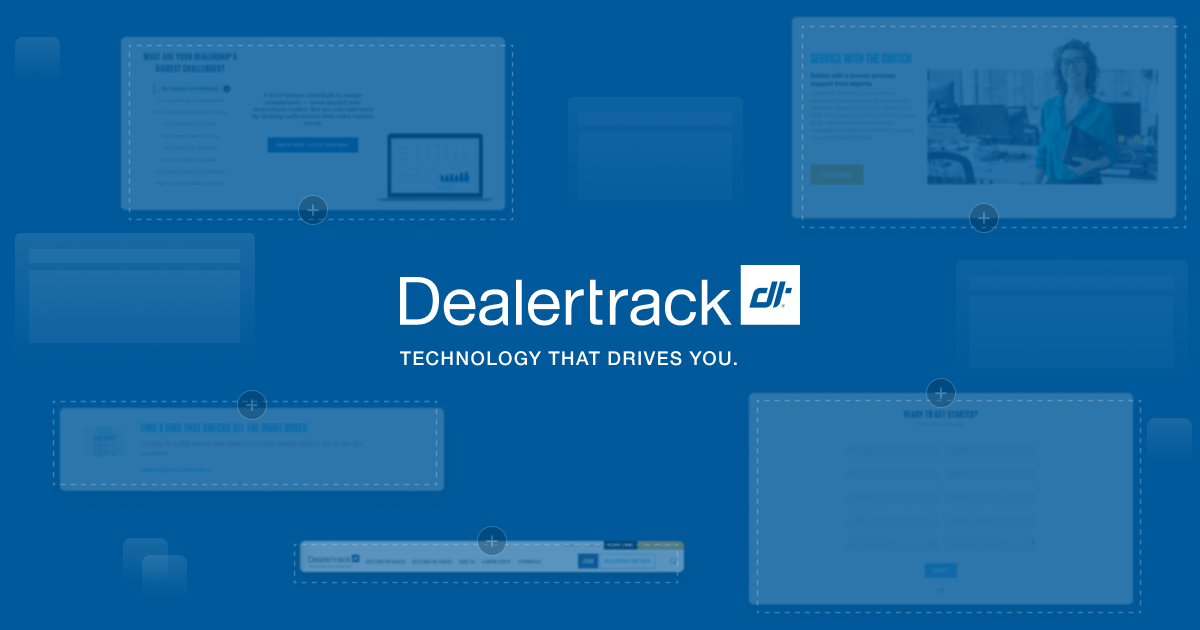 About Dealertrack
Dealertrack is a leading provider of dealership software solutions for the automotive retail industry. With products such as Dealertrack DMS and an ecosystem of digital services, Dealertrack empowers dealerships to make better choices in their businesses and to serve their customers better.
Dealertrack is a subsidiary of Cox Automotive, a household brand with entities such as Autotrader, Kelley Blue Book, and Manheim. Because of its breadth, Cox Automotive plays a critical role in three out of four car purchases in the United States and Canada.
A Clogged Content Pipeline
Dealertrack's website is at the heart of its marketing and sales efforts. Besides being the resource and documentation hub for all their products and services, it acts as a key lead acquisition channel using top-of-the-funnel content such as industry news, webinars, case studies, video testimonials, blog posts, and more.
Dealertrack's AEM setup was proving to be unsuitable for their editorial workflow and marketing roadmap. Nearly every little change or addition to the website required developer intervention, making content management slow and inefficient.
Dealertrack approached rtCamp to move to a different platform with an objective to streamline their content pipeline and cut down the time required to go from concept to creation.
A Truly WYSIWYG Experience
WYSIWYG (What You See Is What You Get) has time and again proved to be the best content editing experience. The power of having a no-code workflow with a direct visual representation of the final product is ideal for any fast-paced marketing team.
Using Elementor and WordPress, rtCamp implemented a truly WYSIWYG interface that made content creation simple and intuitive. Designing and putting together a brand new page or post is as simple as dragging and dropping widgets onto the canvas and editing them. Custom widgets and page templates were created for frequently used layouts, reducing any duplicated efforts. The time required to publish a landing page went down from several hours to a few minutes.
Tailor-made Dashboard
The versatility and flexibility of WordPress allowed rtCamp to put in place a custom, decluttered dashboard that allows for effortless management of content. All of the website's content is organized into custom post types such as News, Testimonials, Events, etc. with rich filtering options. Any front-end modifications such as creating new forms and customizing navigation menus are easy to do with just a few clicks. Developer dependency on marketing activities was completely eliminated.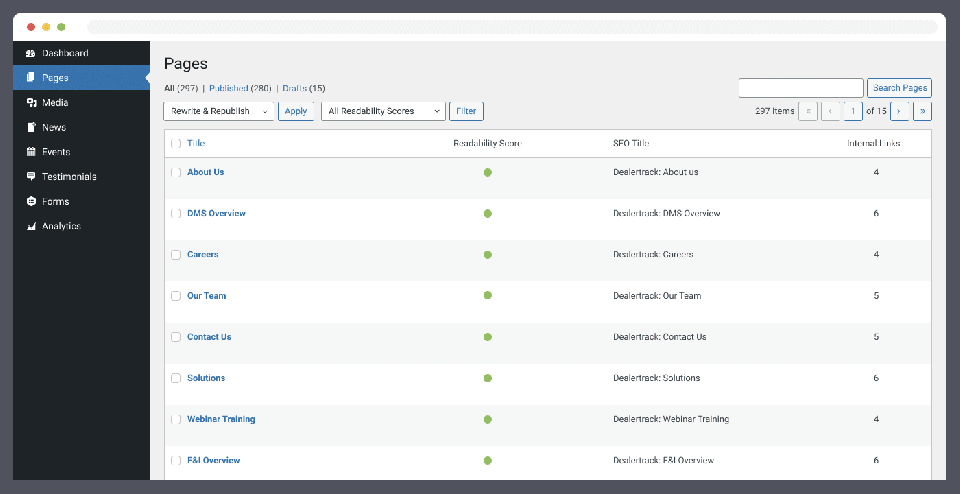 The website does not compromise performance and SEO for usability and design. Besides utilizing industry-standard practices, rtCamp implemented case-specific optimizations to ensure maximum speed. SEO meta including descriptions, titles, and schema markup was preserved. The end result was a website that is faster than the old one but identical to it down to the last pixel.
Salesforce Integration
Dealertrack's website used a number of forms to acquire leads which were then passed on to Salesforce Marketing Cloud. rtCamp developed a custom plugin for Gravity Forms and added the functionality to map the Gravity Forms fields to the Salesforce fields, thereby feeding the data to the Salesforce CRM. rtCamp also made sure the lead generation sources could be tracked, and the entire workflow was tested end to end to ensure that proper tracking and information was carried over.
A Flawless Migration
rtCamp migrated us.dealertrack.com and its microsites to WordPress VIP with zero downtime while keeping SERP rankings intact. Besides providing written documentation, rtCamp also conducted hands-on training sessions to ensure that the Dealertrack team was comfortable with and proficient in using their new website.
A Self-Sufficient Marketing Team
By migrating to WordPress, Dealertrack was able to move the content pipeline entirely into the marketing team's hands and reduce go-live timeframes by over 50%. With WordPress VIP's bulletproof infrastructure and rtCamp's continued support, Dealertrack is ready to serve their customers faster and better, all while saving a fortune spent on recurring licensing costs.