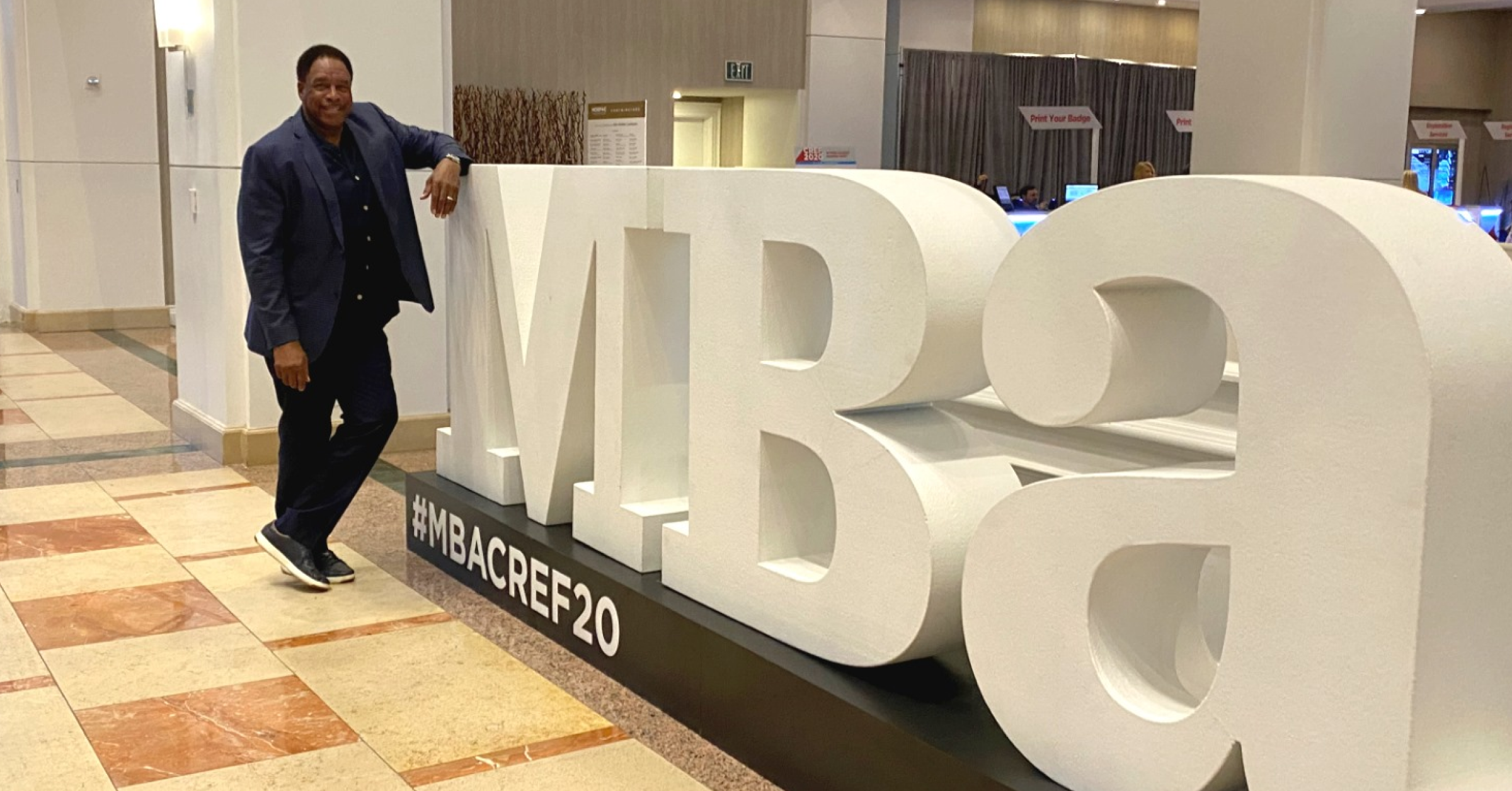 About the Client
The Mortgage Bankers Association (MBA) is a leading advocate for the real estate finance industry in the US. Their mission is to inform & educate mortgage professionals from their 2,300+ member companies.
MBA Newslink, a newsletter by MBA, is at the forefront of this effort. The daily, bi-weekly and weekly editions act as industry news sources covering the latest residential, commercial and multifamily real estate finance news from national newspapers and MBA journalists.
We found the new workflow easy to learn and it did not take long—perhaps less than two weeks—to learn (…) We are now able to create new issues and stories with ease.
MBA approached rtCamp seeking consultancy for their migration of MBA Newslink from Ingeniux CMS to WordPress. In the subsequent discovery phase, rtCamp noted several opportunities to leverage Gutenberg to significantly improve the editorial workflow of the newsletter creation team.
rtCamp prototyped a custom workflow and pitched it to MBA, where the team was excited to place it in service.
Building A Strong Foundation
The first course of action was to migrate all of MBA Newslink's online assets, including past issues, images & documents. The website's existing URL structure was preserved, ensuring that all backlinked content remained fully accessible. This is an important consideration for SEO ranking history. As part of the migration, rtCamp also moved all of MBA Newslink's ad clients and campaigns from BanManPro to the Google Ad Manager platform.
With the platform migration underway, rtCamp started developing a modular design system that would dovetail well with WordPress's new Gutenberg editor.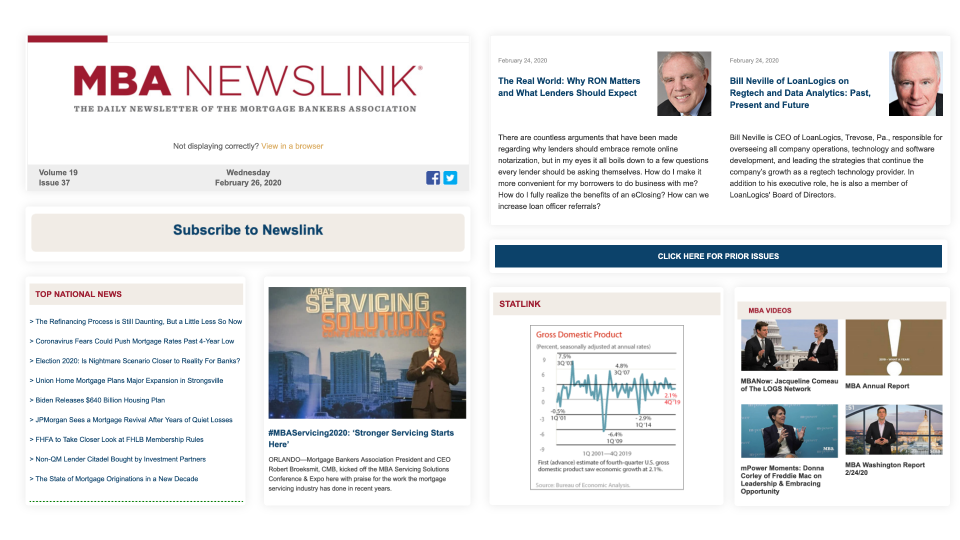 Creating A Modern Editing Experience
The Ingeniux CMS required each article header, lede, text content, and supporting imagery to be copy-pasted and manually hyperlinked. The effort that went into all of this quickly added up, as each edition of MBA Newslink took a full day's work to create. That's a lot of wasted hours, especially considering the daily publishing schedule of the newsletter!

To remedy this, rtCamp delivered a customized Gutenberg editor that streamlined newsletter creation. To add stories, MBA Newslink's editors only needed to select them from a dropdown that was pre-populated with stories published already on MBA's WordPress.

From there, the system would automagically pull in the title, metadata, and hyperlink. The editor could then choose the way the article was rendered, and rearrange, sort, resize or live-preview content with a series of intuitive controls.
rtCamp's custom developed workflow for Newslink outputs two versions when published – a two-column layout optimized for mobile in HTML, and a three-column one that is archived on the website.
The mobile-ready layout can easily be copied over to MBA's email distribution platform of choice, Higher Logic. This gives MBA Newslink the efficiency gains of an integrated creation workflow while continuing to leverage the database, distribution, and analytics from Higher Logic.

With rtCamp's new Gutenberg-powered workflow, MBA's editors can create a complete issue of NewsLink in less than 10 minutes.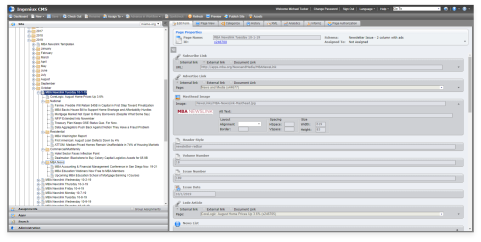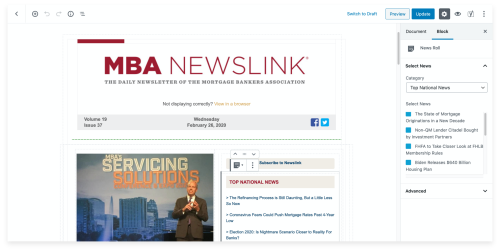 Training And Deployment
As part of our delivery, rtCamp also provided video demos and online hands-on training sessions for Newslink's editorial staff. Along with style guides and platform documentation, this ensured a seamless transition into the new creation process.
Our numbers broke records
rtCamp took a partnered approach to create a solution for MBA. Through our discovery of their related business and workflows, we delivered a solution that empowered their editors and brought back their focus to what they do best. MBA Newslink's new interface brought down the time required to create an edition from several hours to a few minutes.
Highlights:
Initial large-scale migration consolidating 15 sites and 90+ brands
40x improvement in time to publish
Streamlined development workflow and toolset
New "Site Build" experience leading to 50% reduction in build time
rtCamp's meticulously planned migration strategy ensured that a new edition of MBA Newslink was published just one hour after going live with the new system.

Our work with Gutenberg received attention from publishers and developers around the world and was showcased by WordPress co-founder Matt Mullenweg in his annual "State of the Word 2019" WordPress keynote address.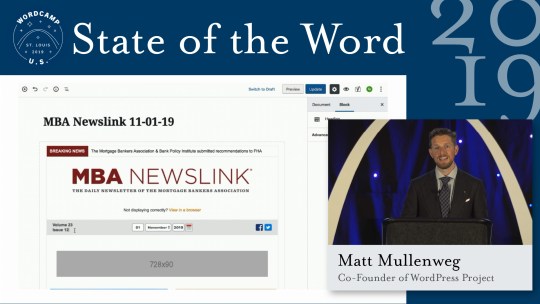 Need a web experience that reflects your brand identity through and through?