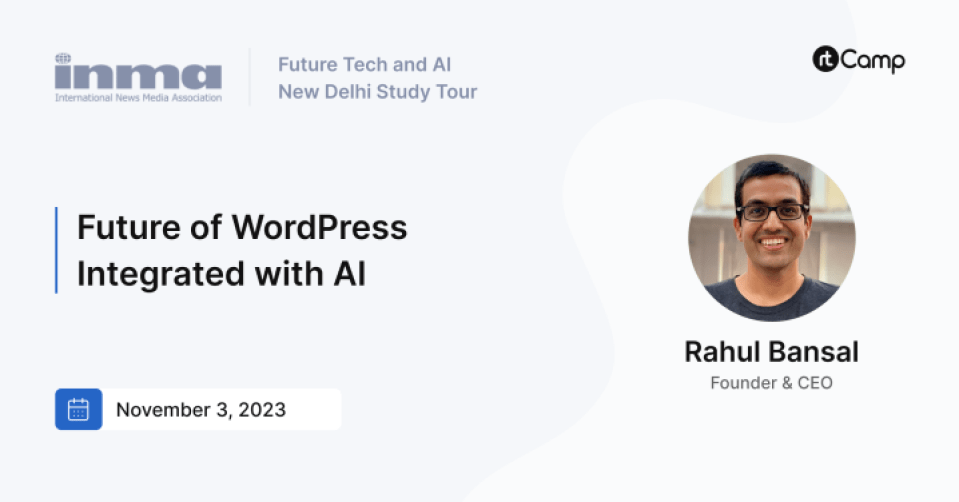 Having worked for large publishers like Penske Media, Al Jazeera and Indian Express, we know that once publishers discover WordPress, they fall in love with the flexibility, expandability, and control it offers as a CMS.
Last year, GenAI captured the imagination of almost all industries across the board, and there is a sort of race to leverage AI for competitive business advantages. However, there are doubts if WordPress as a 20-year-old, open-source CMS is the right vehicle to build the AI advantage.
We believe, WordPress is perfectly positioned to meet any kind of enterprise AI ambitions and drive digital transformation.
To elaborate more on this, our CEO, Rahul Bansal is presenting a brief on how WordPress, world's most popular Content Management System(CMS) integrates with AI, at the International News Media Association's Future Technology and AI-Led Study Tour in New Delhi, on 3rd November.
The briefing will cover how publishers can leverage AI for content creation, community moderation, SEO and accessibility with WordPress.
INMA New Delhi, Future Technology and AI-Led Study Tour is a closed door, invite only event scheduled for November 2-3 in Delhi. If you are attending the study tour, please reach out to Rahul to discuss how AI can be used to solve real-world problems. If not, please schedule a call with us to discover the right AI solutions for you.
---