An organized, ergonomic and fun desk setup is an often-underrated part of remote work. While schedules, calendars and to-do lists help us stay on top of things, a physical place to actually Get Stuff Done™ ties everything together.
Forced to stay indoors 24×7, many rtCampers have invested significant time toward refining their home office setups. Following a discussion on our internal #watercooler Slack channel, we thought we'd show a few of them off. We love how different workspaces reflect the different philosophies and personalities of the people who use them and hope this post inspires you with setup ideas of your own.
All pictures and text are presented with minimal editing.
Mervin Hernandez: Director of Client Solutions, USA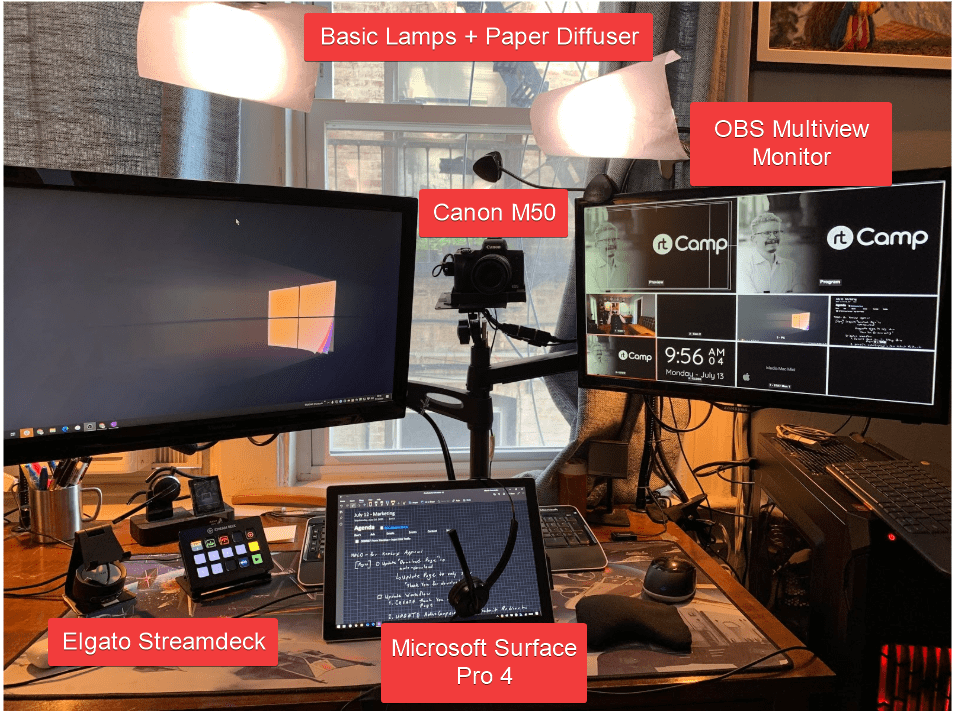 I use a custom build PC which I built in April 2019. To let you know more on the components of my custom build PC, I used –
Computer case – Corsair Spec-01
Power Supply – Thermaltake 700W
Motherboard – Asus ROG Z-390-E
CPU – Intel i9-9900-k
CPU Cooler – Cooler Master Hyper 212 EVO
Memory – G Skill – Ripjaw V 32GB (kit)
Storage (Boot Drive) – Intel 660p 512 GB SSD
Graphics Card – Gigabyte GTX 1050
Oh … and the Star Wars mod-mat ….. That's nice.
To let you know more about my other work accessories and equipment that I use along with my custom build PC, I use a Canon M50 combined with a generic USB HDMI Capture Card for video capture. On the software side, I use OBS to manage sharing my screen and my Microsoft Surface table with handwritten notes live. The MVP piece of equipment however, is an Elgato StreamDeck, which makes it effortless to switch between inputs, start-stop calls, mute-unmute audio, and also allows me to program several time saving macros around daily workflows.
Paul Clark: Director of Engineering, USA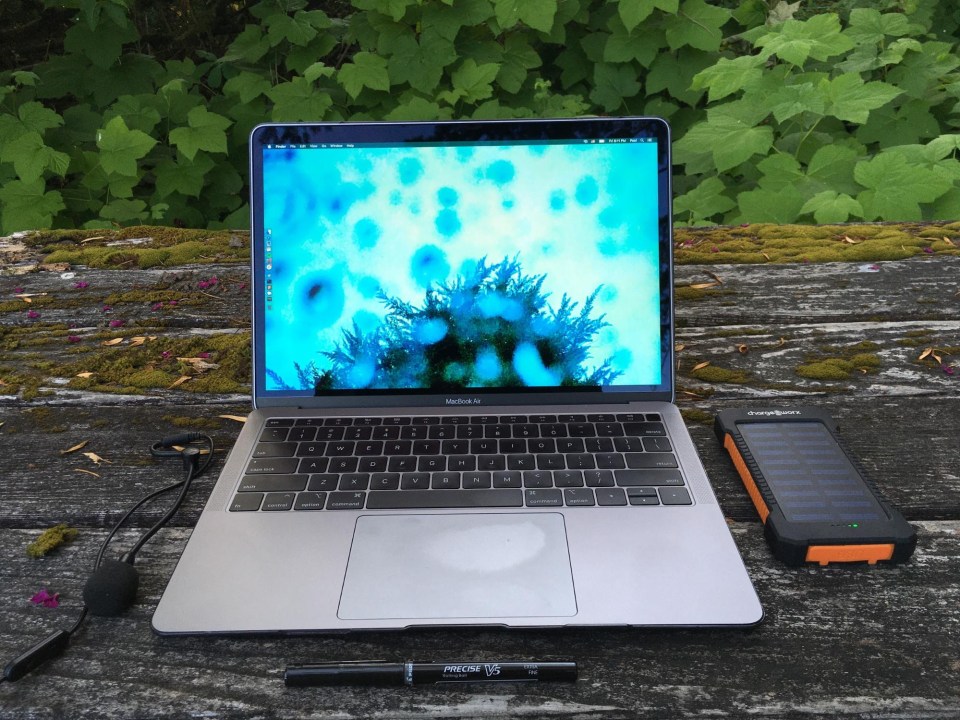 I currently work on a 13" 2017 Retina MacBook Air. I have a second 11" 2014 MacBook Air as a server and spare. The server is plugged into a 4 TB and a 5 TB hard drive. I used to carry them everywhere.
My phone is a first-generation iPhone SE. I currently keep two, in case something breaks or someone needs a phone.
The iPhone SE (1st generation) is a strategic choice. It's the fastest iPhone available in that form factor, other than the second generation iPhone SE. It costs about $50 to $80 to replace the entire phone. They're inexpensive enough that it doesn't matter too much if they break, and spares can be given away to people in need.
I try to be very light and flexible. Everything I own fits into one bag: a tactical backpack.
My most indispensable piece of equipment is a Modmic + Y-adapter from Antlion Audio. I've owned four or more of them over many years. This allows a noise-canceling boom microphone to be plugged into either a computer or phone with any pair of headphones.
I keep two small solar panels with integrated batteries. One is more battery than solar; the other is more solar than battery. Either can charge the phones or MacBook in a pinch. They're much less robust than energy solutions I'd used in the past. The best battery I ever had was a Goal Zero Yeti. I later moved through several custom electrical setups, then landed on my current small batteries which are nearly novelties in comparison.
Other than that, I usually write with a Pilot Precise v5 Rolling Ball Pen.
Sayed Taqui: Senior WordPress Engineer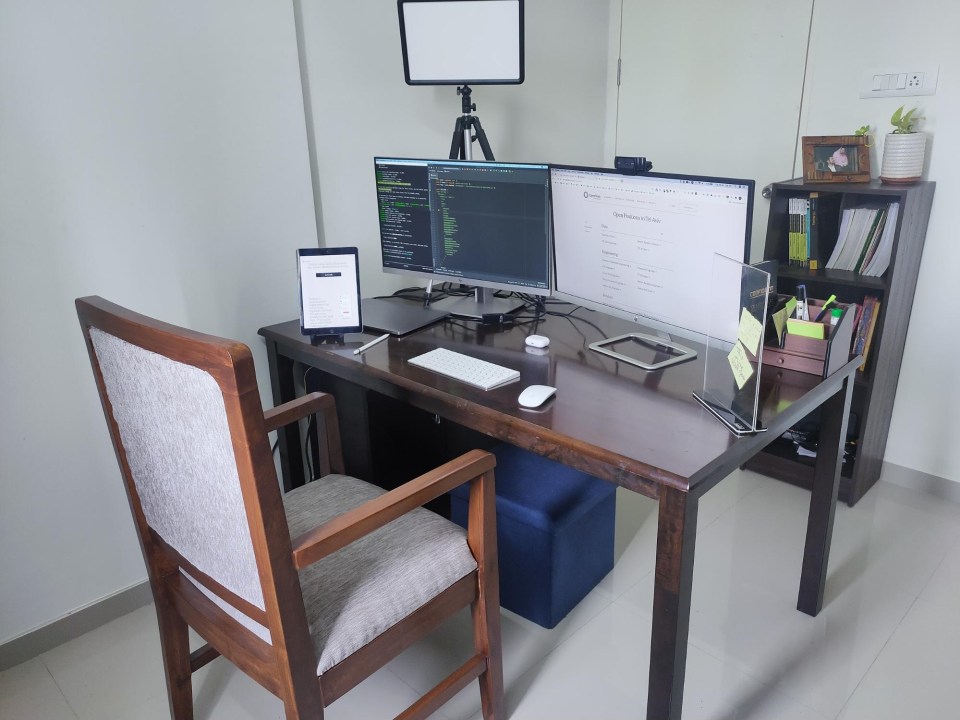 I use Macbook Pro 15-inch as my primary machine. Dual monitors help a lot with improving my work efficiency. I also recommend using a Godox LED Light for better lighting condition and ambiance.
Devik Vekariya: Senior WordPress Engineer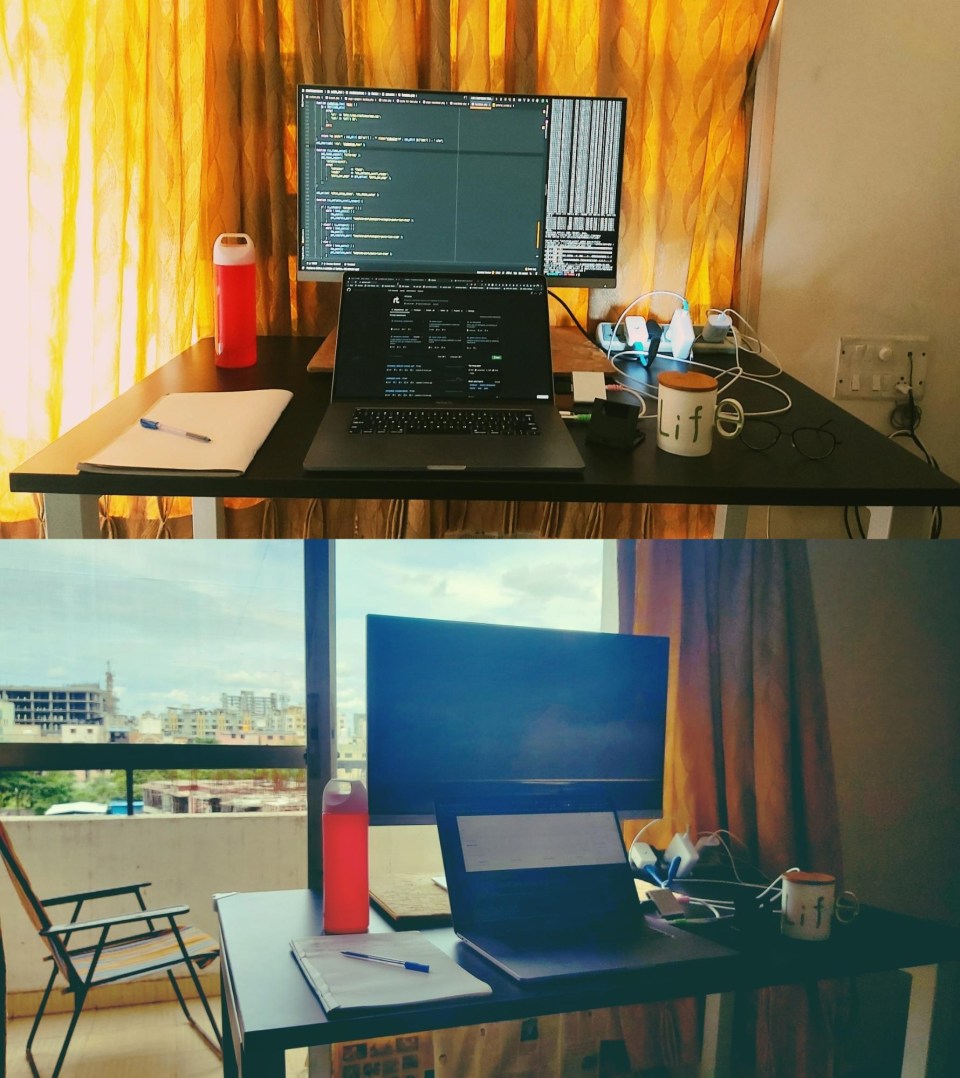 My primary machine is a MacBook Pro 16″. I prefer to work with a good external monitor and have a HP E273 27″ as the extended part of my workstation.
Having a big enough desk to handle on table stuff is a good to have. Apart from that, I prefer keeping a big enough H20 (water 😀) bottle, a pen/paper on the desk to manage quick daily to-do, A cup of coffee 2 times a day 😉 and a good window or balcony behind the desk for natural light (Good in rainy weather).
Devarshi Sathiya: Systems Engineer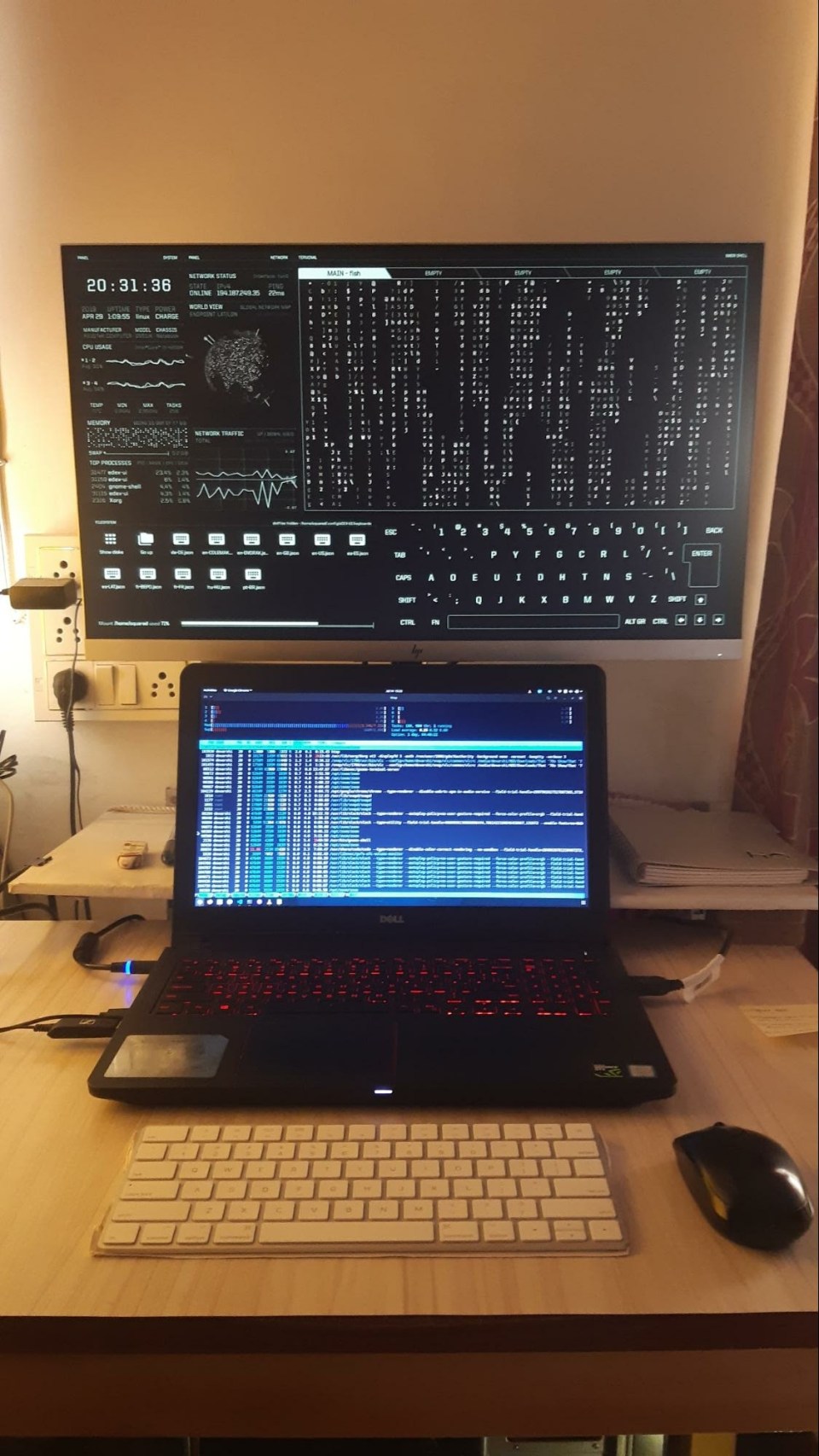 I use Dell 5577 Gaming Laptop – I7 7th Gen – Nvidia GTX 1050 4GB – Ubuntu 20.04 LTS as my primary device.
I have quite a few equipment that makes my workstation just perfect for me. Like I use EliteDisplay E273 as external monitor connected to primary machine, Apple Magic Keyboard (yes with Ubuntu). I did a lot of research for the perfect keyboard. THIS IS THE BEST !!!
I also have a HP 15-DA0297TU Laptop as a ready to go backup system and I keep my primary machine clean by using a headless HP Compaq 8200 Elite a sandbox running on Ubuntu 18.04 LTS. I have enabled port forwarding on my router so that I can access the sandbox machine from anywhere in the world. I don't have static IP address so a CLI script updates IP address on DNS manager via API continuously.
Other than that I use WD Elements 1TB USB 3.0 portable drive for backups. I prefer using Sennheiser PC 8 Over-Ear Headphones. Finally, I use blue light blocking glasses to reduce eye fatigue.
Rahul Bansal: Founder & CEO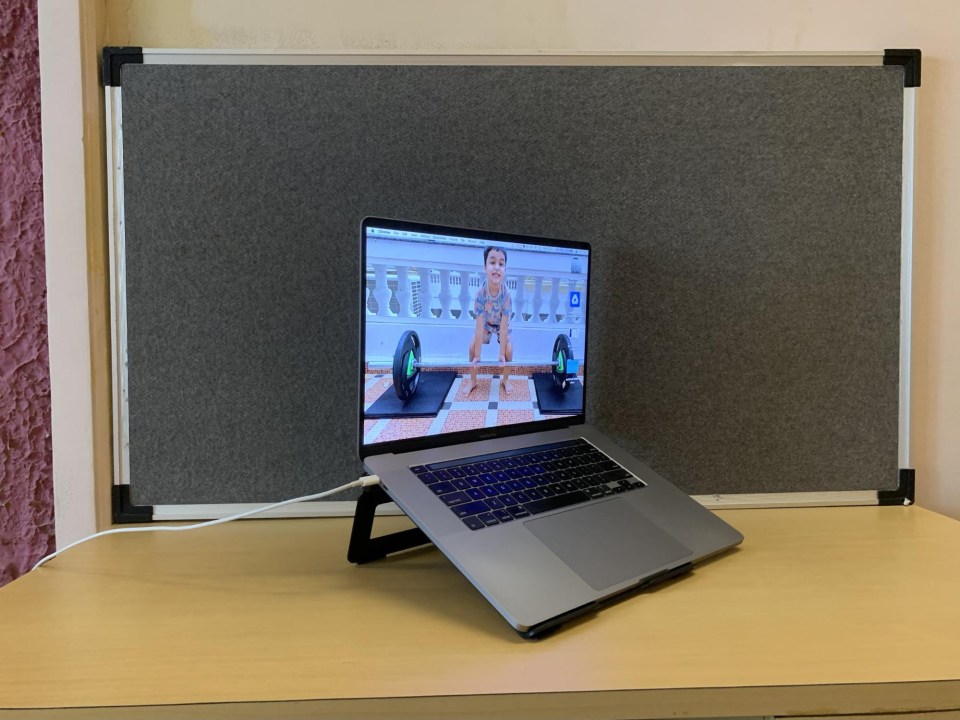 My primary machine is a Macbook Pro 16″. As I am not a fan of multi-monitors or an external keyboard and other accessories, I only use an Adjustable Multi-Angle Desktop Laptop Stand to elevate the screen a few inches so it doesn't strain my neck. The laptop stand is foldable and fits into my backpack, which allows me a lot of flexibility while traveling. Yes, there used to be a thing called traveling until 2020BC (Before Corona)!
Muhammad Muhsin: Senior React Developer

I use MacBook Air 2020 as my primary machine.
Earlier I used a MacBook Pro which unfortunately broke down. But you can still check my earlier workstation here.
I also prefer using a desk lamp to brighten my face during late-night calls!
Sometimes you don't have a webcam ready to work for you, but have your phone instead, no worries. There's an app that can turn your phone into a webcam.
Joel Abreo: Marketing & Communication
I had been finding that while my MacBook Air was a great computer for most light tasks, it was holding me back from doing a couple of heavier things that I wanted to try — 3D games, casual video editing and opening more than 2 Chrome windows at a time. So, after a brief detour in Linux-land, I finally built myself a pretty capable all-AMD Windows rig earlier this year. I still have my trusty MacBook set up in case I ever need to work from the "outside".
I am also running a Blue iCE Snowball mic and an Audio Technica ATH M-30x because I do a fair bit of video calling and recording in and out of work. I also take a LOT of notes, both digital (OneNote) and physical (ball pen + scratchpad). My webcam is a Logitech C170 that's due for an upgrade as soon as webcams are back in stock and drop from their ridiculous WFH-frenzy-driven prices. I also use a Dell U2415 24″" 16:10 monitor that's a great all-rounder.
I use an antique lamp that my parents have had forever for warm illumination and a small analogue watch that I nestle under my monitor to ground myself during the day.
Since I don't usually have anyone in earshot of my home office, I recently purchased a TKL MX-Blue clone keyboard and Logitech G102 mouse. Both with RBG, both amazing. Because everyone knows that RGB make computer to brrrrrrr
That's all, folks!
Setups like these, while cool in their own regard, are an essential part of staying productive in a 100% remote team. Stepping away from our desks in order to focus on our mental and physical well being is also vital.
rtCamp's policies recognise these things and address them though our device discount policy and generous leave allowances (Yup, we're hiring!)
Let us know what piece of kit is essential to your setup, and what you think of ours through the comments below.
Links: Careers at rtCamp
---