Today, for the first time in rtCamp's more than 3 years journey, we are releasing something NOT related to WordPress! An activeCollab module. 🙂
We have been using activeCollab for project-management and collaboration since day-6. We moved to rtCamp's first formal office on Aug 25, 2009 and purchased activeCollab license on Sep 1, 2009.
Unlike most premium apps which comes with encrypted/obfuscated source codes, activeCollab come with a very clean, well structured and nicely documented source code.
We were playing with its codebase from long time but when activeCollab 3 released, with limited git support, we decided to create a complete module to enhance activeCollab's git-support.
So here it is!
activeCollab-Gitolite Module
It adds the following new feature to activeCollab:
Create new git repository directly from projects' source tab.
Manage user-access level for every repository i.e. no-access, read-only, commit-access.
Team-members can manage multiple public keys from their profile.
It uses Gitolite for git-hosting. Our module comes bundled with Gitolite installation script. Gitolite is used by kernel.org to control git-access to Linux's source code. So you can definitely count on it! 😉
Demo:
You can check-out a live demo here.
Screenshots: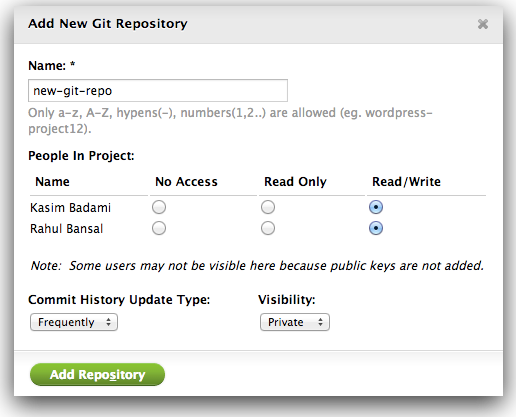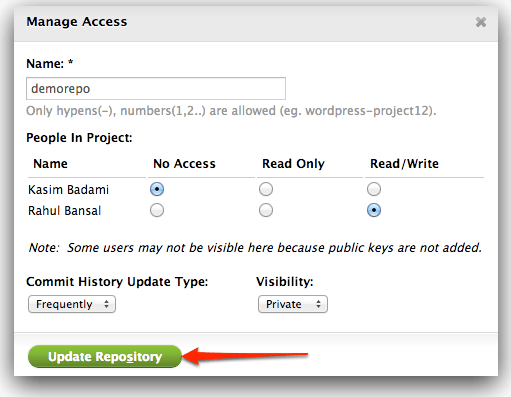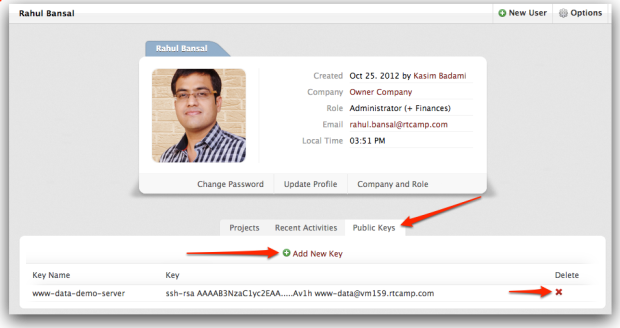 Credits:
This release has been possible due to the hard-work of Kasim Badami and Mitesh Shah. Product itself is polished by Saurabh Shukla and its store-page-cum-documentation is improved by Akshat Oswal.
Thanks Ilija for allowing us to create an online demo setup of activeCollab. I thought  creating the demo might involve some paperwork but it was as simple as dropping an email and getting a warm reply with permission and good wishes. We also thank Nirav Mehta from Apps Magnet for sharing his success-story which inspired many people including us. 🙂
Link: activeCollab Gitolite Module
---