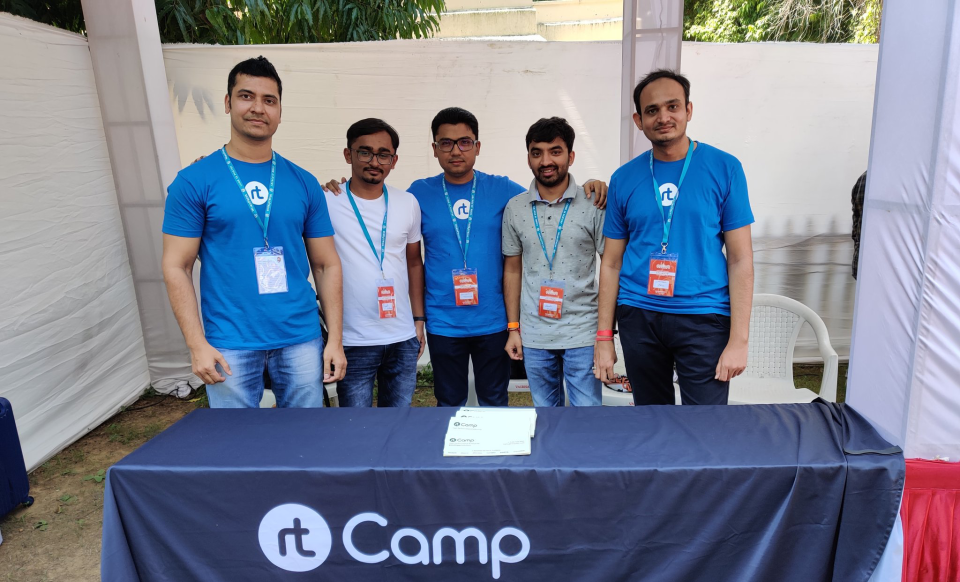 WordCamp Vadodara 2019 was held last weekend and rtCampers (Left to Right) Imran Sayed, Jignesh Nakrani, Rakshit Thakker, Utkarsh Patel, and Chandra Patel, attended the event.
Imran also spoke at the event and wrote this nice first-person account of his experience, which we decided to publish verbatim below.
A small background 🙂
Gutenberg has always been close to my heart since the time I first used it. And building over 25 custom blocks in Gutenberg gave me the confidence and willingness to share my knowledge with others. It's exciting to share my knowledge with folks about how building blocks and creating content can be an enjoyable experience.
In my last two talks (WordCamp Pune and WordCamp Nagpur), I had shared how we can leverage the power of React to build blocks.
While we continue to polish our skills and learn JavaScript and React, a notion hit my mind that a large number of WordPress developers are core PHP developers with minimal JavaScript knowledge.
And when I built blocks with ACF for the first time, I straightway knew that it was a new light for our PHP developers.
Travel to Vadodara 🚆
Holding all the excitement in my heart, I packed my bags and boarded the Humsafar Express.
The October rains had split the dry mountain landscape, offering water and lush green environments.
The scenic beauty from the window made the travel refreshing and enjoyable.
Day of the event 🎉
Being my first time in Vadodara, and at WCVadodara, I was pretty excited to meet the community. The venue itself, Lukshmi Villas Palace was another reason for my excitement.
This beautiful royale monument was constructed by the Gaekwad family, a prominent Maratha family, who ruled the Baroda State in 1890.
I received a warm welcome from volunteers and the organizing team.
My talk was at noon, which gave me a good time to catch up with many WordPress enthusiasts including many rtCampers who work remotely.
There were many good talks like the ones on Gatsby, Google Ranking, Growing your enterprise and the ones where people shared their own stories and personal experiences.
I got to share my knowledge and experience in making Gutenberg blocks with ACF too.
It was exciting to know that many of the attendees were developers, which made explaining the technical side of my talk really simple.
The crowd was energetic and interactive.
I also shared about how people can learn WordPress from rtCamp's WordPress Training Program. People (especially students) showed a very positive response about this positive initiative by rtCamp.
There was an interesting Panel Discussion on Career in WordPress as well.
It was a beautiful venue with amazing folks. There was so much energy in the air that I decided to capture people's experiences at the event.
Here's my video that covers the events highlights and people talking about what they do and their experience at WordCamp.
There was an after-event party as well, which was refreshing.
It was really a memorable experience at WordCamp Vadodara. I would like to thank the volunteers and the organizers for being so helpful and welcoming to everyone.
Looking forward to visiting Vadodara next year too. 👋
Links: Imran's talk(video) | rtCamp's WordPress Training Program
---