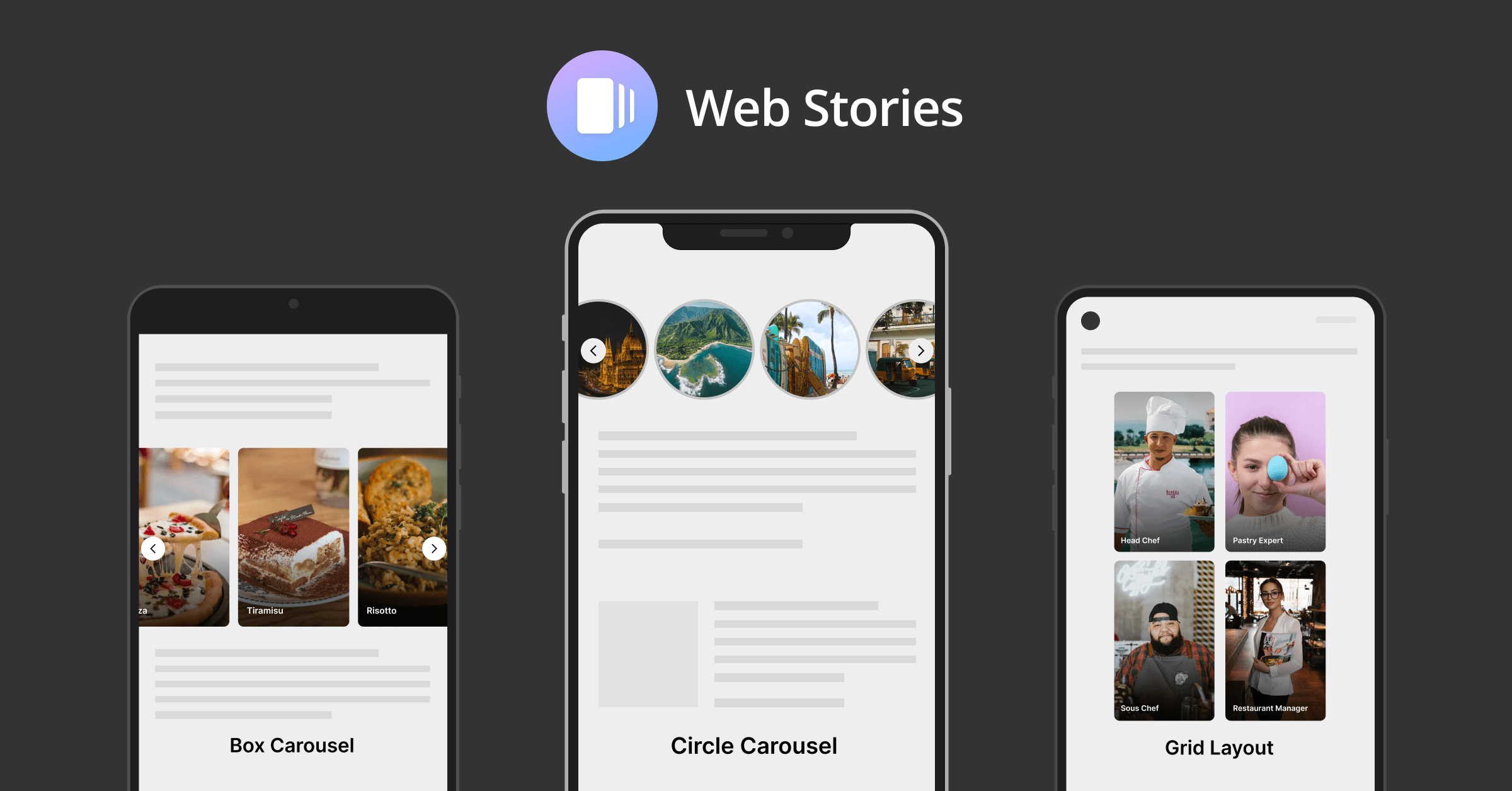 The story format promotes magazine-style visual storytelling by packaging content in an immersive viewport that works well on mobile & desktop. Brands have better engagement, conversion & content flexibility using the format. Not surprisingly, it is massively popular through Snapchat, Instagram, Facebook, and other social networks.
Although the format itself is appealing, the way most platforms implement stories has issues around accessibility and ephemerality. Additionally, some of these platforms limit story's full functionality to their native mobile apps, even if they have fully functional websites.
We love stories as a format for their unique distraction-free experience. So when we received an opportunity to collaborate with Google for Web Stories, we were more than thrilled.
Meet Web Stories
Google's Web Stories takes the immersive story format out of the confines of mobile apps and brings it to the open web. Every Web Story lives alongside other content and conforms exactly to your brand guidelines. The visual storytelling format works well for a wide range of categories like entertainment, food, how-to, listicles, and more. The possibilities to remix & reuse content is endless.
Web Stories are backed by Google and are discoverable from Google Search, News & Discover. Outside the confines of social media platforms, the stories format can both re-engaging your audience, as well as widen it.
Since Web Stories are long-lived and you can monetize them through ads, they will naturally fit into your existing content strategy.
Web Stories Editor for WordPress
Google's Web Stories Editor for WordPress plugin makes it easy to create and manage stories straight from your WordPress dashboard and publish them to a platform that you fully control.
Partnering with rtCamp has been key to the success of several important projects for us. Their WordPress ecosystem insights, engineering expertise, user focus, and super high-quality output have been the perfect combination to complement our efforts in developing tooling for the WordPress ecosystem.
For the Web Stories for WordPress v1.5 release, rtCamp collaborated with Google to make it easier to embed stories anywhere on your WordPress site via familiar Gutenberg blocks, the TinyMCE (aka Classic) Editor, sidebar widgets, shortcodes, and PHP template tags. This greatly extends the presentational flexibility, so that you can embed your inventory of stories exactly as you see fit.
rtCamp also developed a WordPress Customizer API that helps developers display web stories in theme-specific areas. Since the API extends the native WordPress Customizer, Web Stories are fully portable between themes with support.
The plugin code supports all default WordPress themes, right from recent TwentyTwentyOne to TwentyTen. Furthermore, Astra, Neve, Newspack, which are some of the most popular names in the WP ecosystem, have added native integrations for Web Stories through this API.
Web Stories are built using Google's AMP technology for consistently great load time and performance. They are fully functional both on AMP and non-AMP websites.
A Successful Rollout
Web stories in action. These are reused straight out of our careers section, where they appear quite differently. This is the kind of ease of use and flexibility that Web Stories within Gutenberg blocks give creators.
rtCamp set up a demo website to showcase the flexibility of Web Stories for WordPress. The website received a lot of traffic at launch, an indicator of the interest in the project from people & brands.
Web Stories, More Snackable Than Ever
Google's Web Stories for WordPress rollout went through flawlessly. As of writing, there are over 20,000 active installs of the plugin. And through ongoing releases like these, Google Web Stories will keep getting better and better.
If your brand is evaluating stories as a format, we'd be happy to help navigate the landscape – right from content strategy to implementation. Or, if you belong to one of those cutting-edge publishing houses that have invested in an in-house story format, we can help you replatform to Google's Web Stories for better discoverability, performance, and monetization opportunities.