PHP 5.5. has zend opcache support in core. Since APC is not updated from long time, we made a switch to new Zend Opcache. Below is our config and web-based stats viewer.
PHP's Zend Opcache Config
In your php.ini or depending on your PHP version
/etc/php5/fpm/conf.d/05-opcache.ini
or /etc/php/7.0/mods-available/opcache.ini
zend_extension=opcache.so
opcache.memory_consumption=512
opcache.max_accelerated_files=50000

;following can be commented for production server
opcache.revalidate_freq=0
opcache.consistency_checks=1
Web Viewer
Unlike APC, for Zend Opcache there are plenty of web-based viewer. May be reason being zend opcache's official status has something to do with it. Below is list to choose from.
This is by PHP creator himself. Very beautiful.
Installation
cd /var/www/example.com/htdocs
wget https://raw.github.com/rlerdorf/opcache-status/master/opcache.php
Screenshot: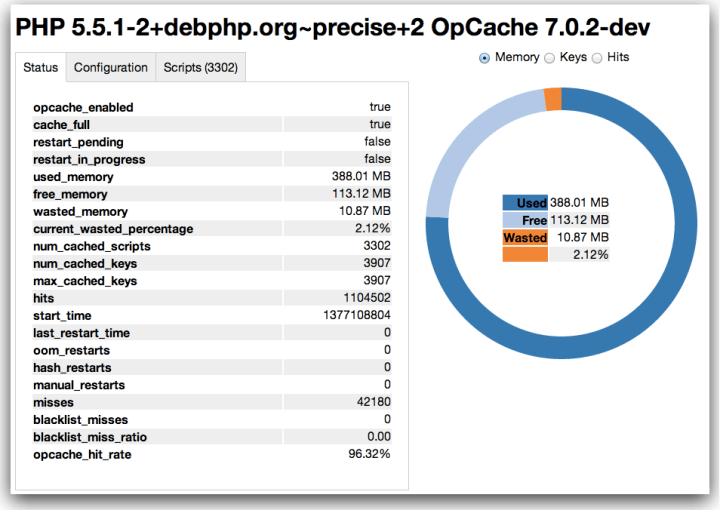 Responsive. Feature-rich. Notably option to enable real-time stats and and option to reset/flush opcache.
If you are going to use this, make sure it is protected by some security layer.
Installation:
cd /var/www/example.com/htdocs/
wget https://raw.github.com/amnuts/opcache-gui/master/index.php -O op.php
Screenshot: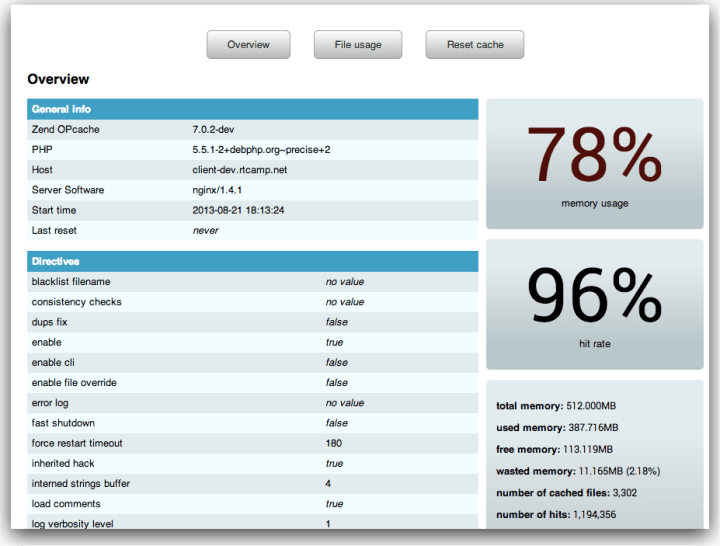 Has best way to analyse/explore file-based cache. UI is more old-style.
Installation:
wget https://gist.github.com/ck-on/4959032/raw/0b871b345fd6cfcd6d2be030c1f33d1ad6a475cb/ocp.php
Screenshot: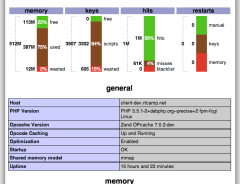 We are using all 3 for now! We will update this post if we add or remove anything from our list.