WordPress, as a CMS, possesses robust security features. These features are enough to protect your website from the usual vulnerabilities. But better safe than sorry, right?
It is really disheartening to see some hacker destroy your dream website. Months of planning and hard earned money along with consistent efforts to maintain the site all seem to go down the drain.
That is why rtCamp considers it as a fundamental duty towards our clients to deliver an utmost quality website which is secure and thwarts all attempts of infiltration. More of a moral obligation. We promise all our clients that we will be there for them forever!
Dedicated QA and Stringent Security checks: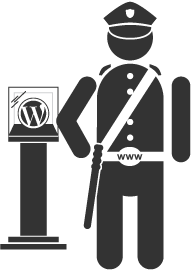 To help serve you better, we have set up a dedicated Quality Assurance team. The primary job of this team is to figure out and remove all possible loop-holes from the website before it is delivered.
Though the primary focus of these checks is to strengthen the website, they also include dozens of other quality checks. As the website is developed from scratch and codes are W3C Validated, the website is immune to most security breaches.
Additional Steps:
The additional steps we take make us stand out in the WordPress Market:
Installing and configuring security plugins like Login Lockdown, WP-DBManager, Secure WordPress, etc.
A security audit of all the functionality plugins before installation.
Restricted access to server files.
Keeping only required ports open for visitors.
Installation of Security certificates(SSL) for carrying out secure online transactions within E-shops.
Self Defense:
Self defense is your best option. It helps you keep trouble at bay. In addition to the steps we take, there are a few simple steps we advise our clients to follow.
Never access your website from an infected PC (Mostly Windows OS). This is a golden rule.
Change the administrator id from 'admin' to something more personal and less obvious.
Use strong passwords. Use of different cases along with numbers and symbols is encouraged.
Do not share your password with anyone, and more importantly do not use common passwords for multiple accounts.
These steps will provide adequate protection to your website. You can always visit Devils' Workshop for more info. If you have more security tips, please share them with us.
---