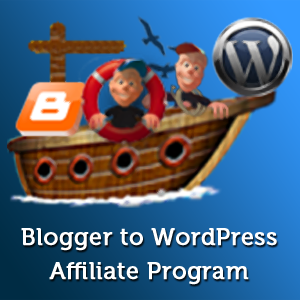 Around 5 months back we started this portal to offer best quality service for bloggers who want to migrate from Blogger.com to WordPress (self-hosted).
Many bloggers, who used our migration service, asked us if we have any affiliate program which they can use to recover money they spent on our services! 😉
Answering to our old clients and fellow affiliate marketers, today we are happy to introduce "Blogger to WordPress Affiliate Program".
Earn Upto $50 Per Referral
On this portal, we offer 2 main paid services:
Blogger To WordPress Migration (posts, comments and links)
WordPress theme design (to match Blogger.com layout or new WordPress theme)
If client you are referring, hires us for both above services, you will get $50 commission.
If they hire us for only one service, you will get $25 commission.
You can check more details about our affiliate program here.
For WordPress Professionals…
If you are a WordPress consultant/theme designer, you may not prefer to send your clients directly to us.
In that case, you can send a quote request on your clients' behalf. Yep, you can put your own affiliate ID, on contact form! 😉
By the way, if you think it's better to go with WordPress built-in importer and free guides, you may like to know what is so special about our migration service!
Support Forums
With this service, we are also introducing support forums at – http://forum.bloggertowp.org/
If you are…
a client who have doubts about our service, you may like to check pre-sales support forum. By the way, it costs nothing to get a free quote!
an affiliate, you can get your questions answered in affiliate support forum.
a blogger trying to migrate on-his-own using free tutorials, you may like to use our free technical support forum. Yes, in free time, our team enjoys answering questions related to migration as well as themes/layout design.
To use support forum, you need to login with your affiliate/rtBlogs username & password.
If you are new here, you can signup for a free account in few seconds.
Links: Affiliate Program |  Support Forum
---