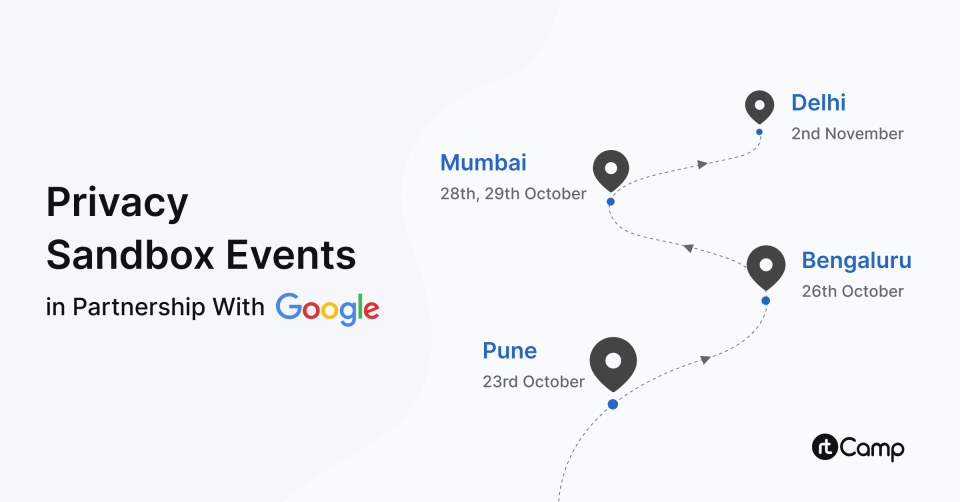 As part of our efforts to help businesses with a web presence & third-party service providers to successfully transition to a more private web, we are conducting a series of events in partnership with Google, this October and November. These events are aimed at empowering industry stakeholders in the web ecosystem, to get ready for the upcoming deprecation of third-party cookies in 2024.
Through these events, we will provide the context and details of Google's Privacy Sandbox initiative. We will also use this opportunity to leverage the Privacy Sandbox Analysis Tools (PSAT), which we are developing with Google, to empower site owners & developers to analyze and understand the usage and behavior of cookies on their sites. We will also cover the available privacy-focused alternatives to replace third-party cookies.
The initial set of events include the following Indian cities, with dates:
| | |
| --- | --- |
| Date | City |
| 23rd October | Pune |
| 26th October | Bengaluru |
| 2nd November | Delhi |
In case you are interested in participating in any of the above events, please fill the expression of interest form. Please note that these are invite-only events. We will extend invitations based on availability of slots, while trying to ensure wider representation. Even if we fail to find you a spot, we will make sure to get back to you in some capacity, including sending you a free privacy audit toolkit to get you up to speed.
Apart from the above events, another excellent opportunity to engage with us around Privacy Sandbox readiness can be WordCamp Mumbai on 28th & 29th October. Alberto Medina from Google is one of the speakers, and rtCampers will be available at the booth to take your questions. Entry to WordCamp Mumbai is open to all, and the event passes are available at the time of writing. Make sure to buy them before they run out.
If you are a developer or technical stakeholder in the web ecosystem in India, we encourage you to apply for attending one or more of these events. This is a unique opportunity to learn about the Privacy Sandbox initiative, get hands-on experience with the PSAT, and get direct support from Google & rtCamp team.
Links: Privacy Sandbox | Register for Privacy Sandbox Audit
---