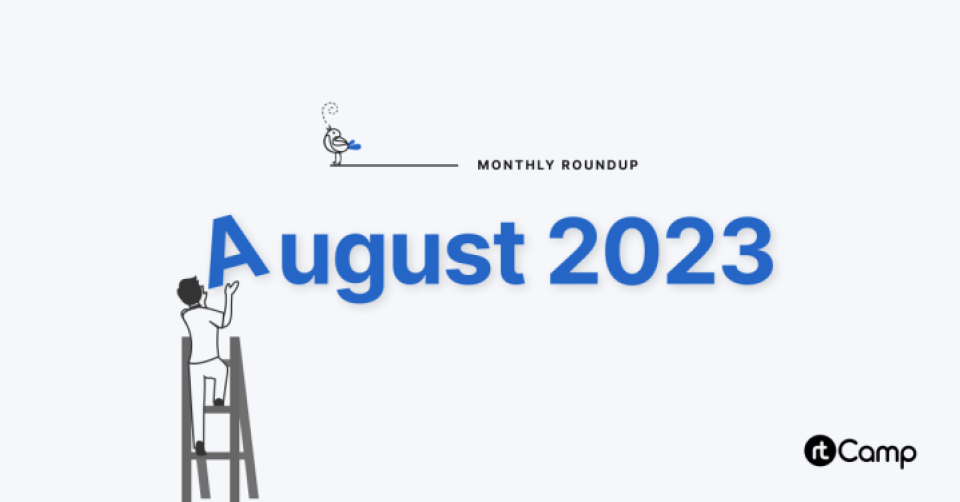 Hello!
August had a lot going on for us, and we are excited to share the updates.
rtCampers, Rahul (CEO), Vivek (CBO), and Aviral (Marketing Head) recently concluded their extended US visit. The visit included attending the WordPress Community Summit, WordCamp US 2023, and the ONA conference, along with meeting our clients from the East Coast to the West Coast.
At the Community Summit, we got the opportunity to spend time with the community and share and receive ideas to keep the open-source WordPress project thriving. WordCamp US had two major showcases –  the NASA website, now in the Beta phase, and the White House website, both built on WordPress. It was good to see some of the most well-known and important organizations embracing WordPress for their digital presence. With WordPress VIP getting FedRAMP certification, we see WordPress becoming the go-to CMS for many more government agencies in the United States.
The Online News Association's conference, held in Philadelphia this August, was attended by Vivek. It was good to see WordPress being the CMS of choice for most publishers and journalists. Newspack generated a lot of buzz as the all-in-one platform for publishers. Artificial Intelligence, like everywhere else, had the curiosity of editors and publishers. During a couple of sessions around AI, we gathered that the publishing community cares about the element of truth and human empathy in their stories, while being open to experimenting with caution. Canva and Parse.ly were a few of the other noteworthy demos that piqued the interest of newsroom owners.
13 rtCampers contributed to WordPress 6.3 "Lionel". One of the major updates in recent times, this integrates Gutenberg and Core, enhances the site editing experience, introduces new blocks and design tools, and improves performance and accessibility. This release marks rtCamp's 28th consecutive core contribution.
We shared why migrating to WordPress is a smart move for enterprises. In this post, we discuss the benefits of WordPress and how it helps enterprises achieve security, performance, scalability, and much more. We will also share the migration process and tips in the upcoming weeks, so make sure you follow our blog page for more updates. With Drupal 7 reaching end-of-life in January 2025, we hope that this series will turn out to be helpful for decision makers. 
rtMedia Core version 4.6.14 has been released this month. This version is compatible with WordPress 6.3 and PHP 8.2. It also includes essential fixes and features such as the ability to add emojis to media comments. Updating to this version is easy, as you can do it directly from your WordPress dashboard or manually using the zip package from the WordPress plugin directory.
We now have a new office in the United States! It is located in the vibrant tech landscape of Atlanta. It's a step towards expanding our reach and serving our clients better.
Upcoming Events
WordPress News Snippets
From Around the Web
Google unveiled Project IDX, an experiment aimed at improving full-stack, multiplatform app development. It leverages Google Cloud and harnesses Codey, an advanced AI model based on PaLM 2.
Salesforce announced the availability of Einstein Studio, an easy-to-use "Bring Your Own Model" solution that enables enterprises to use their custom AI models to power any business application. This solution helps data science and engineering teams to manage and deploy AI models more efficiently and at lower cost.
AWS has announced the availability of AWS Dedicated Local Zones. They are built for the exclusive use of a customer or community and are placed in a location or data center specified by the customer to help comply with regulatory requirements.
Blogs by rtCampers
Water Cooler
Popular on our #watercooler Slack channel.
Link: Web Developer Hiring Program
---