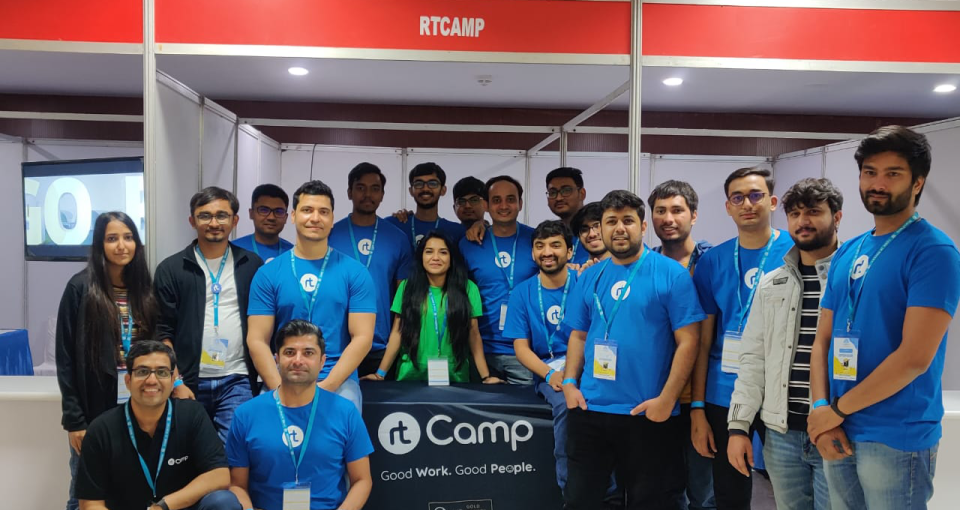 Hey folks! 👋
As we bid farewell to 2019, let's look back at all the moments that ended the year on a high note for us.
Our tour of Ahmedabad 🚆
Careers in Open Source event
During December, rtCampers went on a trip to Ahmedabad for two events. The first event was on careers in open source that we conducted in collaboration with Ahmedabad University. rtCampers Chandra Patel, Rahul Bansal, and Imran Sayed spoke at the event and we had a great time interacting with all the attendees. You can read more about this event here.
WordCamp Ahmedabad
The very next day, we had WordCamp Ahmedabad. Around 20 rtCampers attended the WordCamp and Imran spoke about Progressive Web Apps (PWA). Here is an account of our experience. You can also check out Imran's talk below. Slides can be found here.
Whether it's WordCamp, some other event, food, or networking, our trips to Ahmedabad have always been enjoyable and this time was no different. 🙂
Updates & Releases 🚀
EasyEngine ⚙️
We released a new version of EasyEngine – v4.0.15. This version ships with updated Nginx, PHP, and added support for PHP 7.4 along with a command to update your site to the PHP version of your choice. Read more about this release here.
rtMedia 🎬
We also rolled out updates to our premium rtMedia Docs and Other Files add-on and two minor releases of rtMedia Core – V4.5.10 and V4.5.11.
Apart from this, we published some interesting articles covering our premium add-ons. Check out our How-To guides to learn more.
Coming up! 😀
Next year we are turning 11 years young and we are celebrating this occasion with a team outing to Goa in January. rtCampers from across the globe will be joining us and it will be a great time to catch up with them in person and have a good time.
Altogether, the last month of the year was a busy one for us all but we are looking forward to starting off 2020 on a high!
Best wishes from all of us at rtCamp and we hope to see you next month with exciting updates that we come across. 👋
Links: WordCamp Ahmedabad experience | Careers in Open Source Event
---