New release of rtMedia v1.8, comes with RSS feed support that can be used for podcasting as well.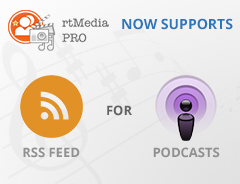 RSS Feed Support
rtMedia provides you RSS feed for:
BuddyPress user profiles
BuddyPress groups profiles
WordPress author (no UI to subscribe as of now)
Also RSS feeds are available for all media types as well as audio-only/video-only feeds for podcasting.
You can use any RSS feed inside podcasting! Non audio/video items in feeds will be just ignored by iTunes.
Enable RSS-feeds/Podcasting Support
 Go to rtMedia > Settings > Feed
Switch Enable Feed in rtMedia  to On
You can set Media per Feed of you choice
Save Settings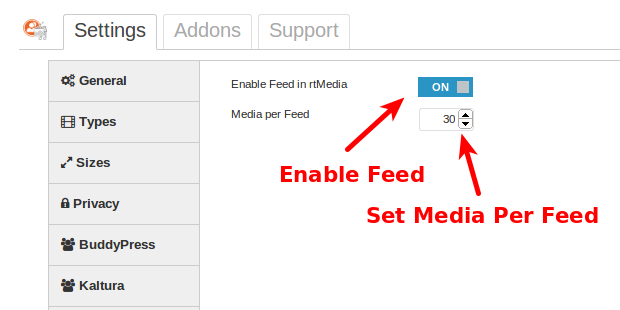 To start Podcast, go to your mp3/mp4 player which supports Podcast (e.g. itunes) and enter the Feed URL for the media page you want add, you can get Feed URL on the media page by clicking on RSS tab under Options.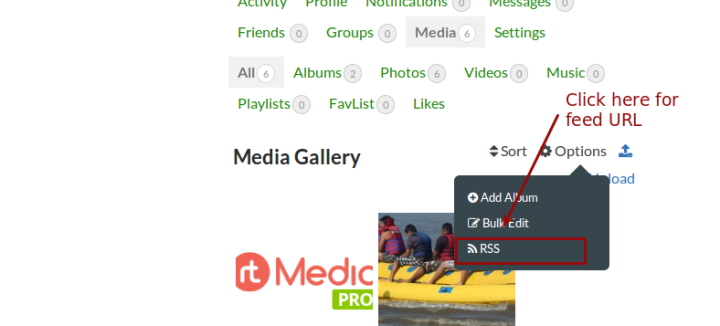 Adding RSS URL to iTunes Podcasts
Open iTunes. Go to Files > Subscribe to Podcast…".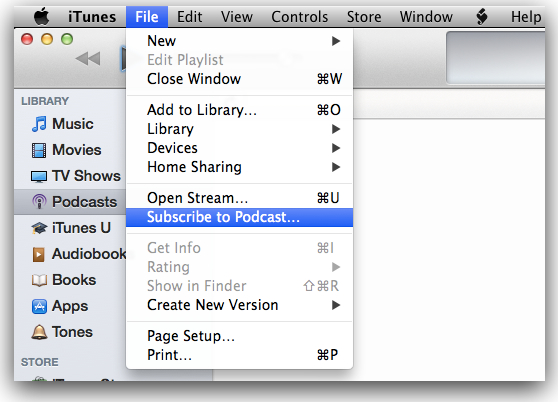 Paste RSS-feed URL in box.
You can see your RSS-feed/podcast there.

iTunes Glitch
If you are new to iTunes, then you may notice that no matter how much audio/video you upload on rtMedia, iTunes will show latest one only.
You can fix this by using "Show Old Episodes" option. Just right click on a podcast to see that option. (screenshot below)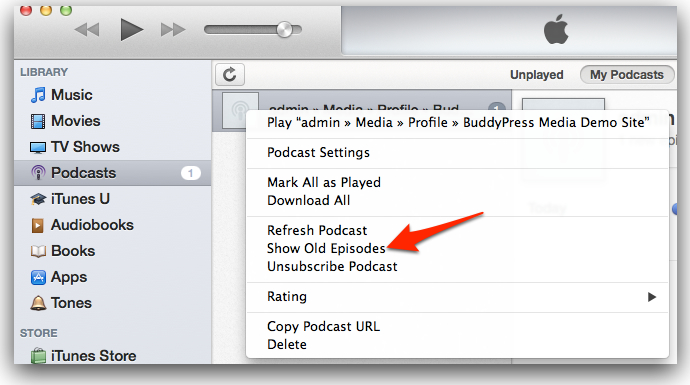 Audio/Video Formats
I think iTunes only like mp3 for audio and mp4 for video.
If you are running a community sites where your users will be using diverse media formats like mp3, wma, ogg, wav, m4a, wma, ogg, wav, m4a, etc (for audio) and mp4, avi, wmv, rm, etc (for video), you can try one of rtMedia's audio/video conversion option.
Privacy
As of now rtMedia RSS feed renders public media only. If something is not public, then that will not be present in RSS feeds.
Support for token-based RSS feeds for private media might be added in future, depending on demand. If you need it, just drop a comment below to let us know that.
Upgrading
Existing rtMedia-PRO customers can upgrade to rtMedia-PRO 1.8 like anyother WordPress plugin.
Just go to Dashboard > Updates from your WordPress admin panel. You will see an update to rtMedia-PRO available there.
Pricing
This will be second-last release of rtMedia to be priced at $99.
But in case you have missed it, rtMedia core platform crossed 100k downloads yesterday. And to celebrate this milestone, we are running a promo where you can get 50% off on all rtMedia addon purchase. If you missed this offer, its better to Subscribe for rtMedia updates. 😉
Have a question? Contact us here!
Links : Purchase rtMedia PRO | rtMedia 50% discount offer
---