As discussed in the previous post, rtCamp was involved in many ways with this year's WordCamp Mumbai. Since Mumbai is just over 160 kms away from Pune, it gives a lot of rtCampers a great chance to visit it.
Day One
Almost 17 rtCampers attended WordCamp today. After a bit of networking and some tea, the sessions began in the auditorium.
Team @rtcamp at @WordCampMum pic.twitter.com/aFSFjSWQCW

— Vivek Jain (@svivekjain) March 8, 2015
On the first day there were 10 speaker sessions and all of them were amazing.
Some favorite includes…
Konstantin Obenland from Automattic who spoke about lessons he learn while contributing to default themes on WordPress.
Bryce Adams from WooThemes spoke about the "Settings Experience and why it sucks". The session involved a lot of insight into designing for the majority and deciding for the users rather than crowding settings can make software difficult to use.
Sam Hotchkiss, again from Automattic, also had a good session, in which he spoke about the possibility of doing interesting things with "WP-Admin" dashboard mainly using JSON REST API.
I also spoke about "Debugging WordPress Performance. Using EasyEngine." on Day One. Response to my session seemed good. Not sure if it was because of content or duration (I wrapped it much before allocated time). 😉
@rahul286 makes performance debugging look like child's play … #wcmumbai #easyengine … very cool

— Karthik Magapu (@KarthikMagapu) March 7, 2015
Last year everyone fell in Love with @rahul286 and his easy engine demo… this year he continues where he left !#WCMumbai

— Unsharp.Me (@unsharpme) March 7, 2015
Squish bugs with today's knowledge #WCMumbai @rahul286

— Saurabh (@actual_saurabh) March 7, 2015
Day Two
The second day was "International Women's day" and hence it was appropriate that the day started with two awesome women speakers.
On day two, there were 9 sessions. Some favorite includes…
Karthik Magapu from Hummingbird spoke about "The Philosophy that drives WordPress". As usual Karthik presented it exceptionally well and engaged audience.
Mahangu Weerasinghe from Automattic spoke about "Teaching Happiness: What WordPress Support Can Learn From the Classroom". His session was eye-opener. The day video of that session becomes available, I will be showing it our entire developer and support team. The session was a masterpiece in every way! Mahangu's session slide
After day two, some of us went to a restaurant & bar and partied till 11 PM. After that we headed back to our destinations.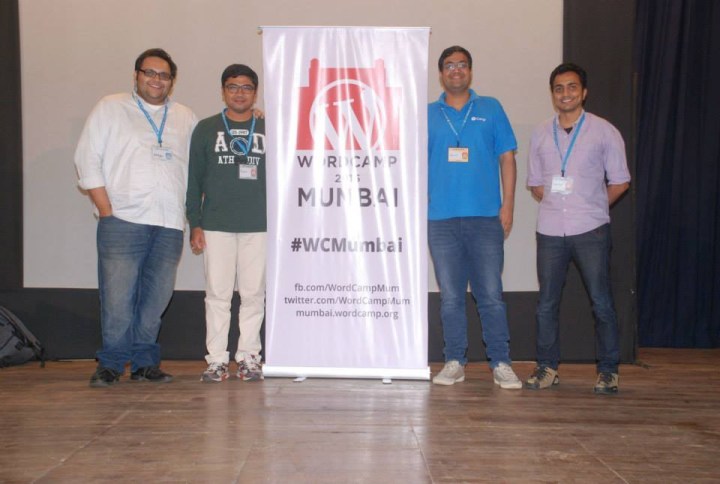 Summary
Overall, this WordCamp Mumbai was best in India. Even better than the previous one. It was so engaging that I forgot to tweet on day one! 😀
Links: Our session slides | WordCamp Mumbai 2015 site
---