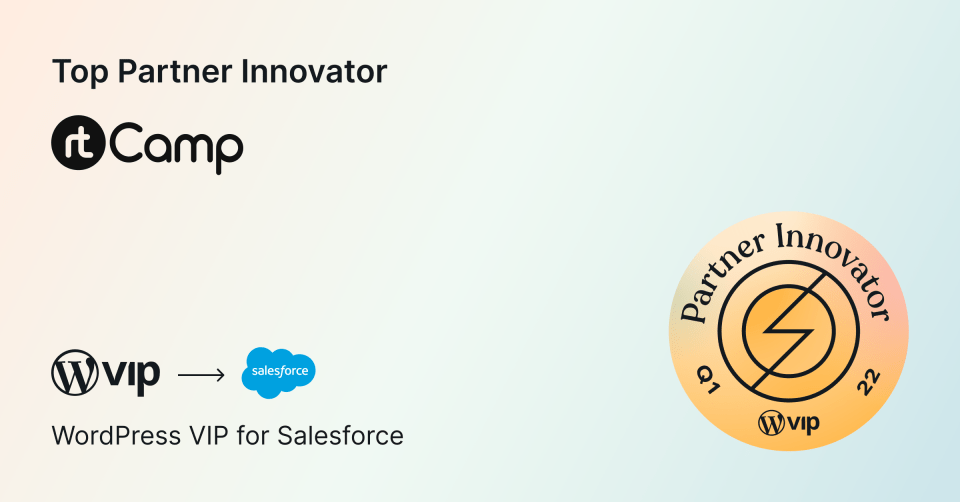 WordPress VIP, the best-in-class enterprise WordPress platform, has started a quarterly award program to recognize good work by VIP's agency partners and technology partners.
We are proud to share the news that our efforts to make WordPress VIP work seamlessly with Salesforce Marketing Cloud have been appreciated in the form of the "Top Partner Innovator" award.
Salesforce Marketing Cloud usage is quite common among WordPress VIP customers. Large enterprise customers usually have different teams dedicated to content creation (WordPress) and distribution (Salesforce).
Before this integration, a person responsible to curate newsletters in Salesforce Marketing Cloud was required to log in to WordPress and copy-paste content, related metadata, and assets manually. With this integration, the marketing team can insert WordPress content into the newsletter right within Salesforce Marketing Cloud.
With WordPress VIP and Salesforce, we continue to innovate further connecting more Salesforce offerings with WordPress in ways that enhance productivity.
We thank WordPress VIP, Salesforce, and our clients who have supported the development of this integration throughout.
Links: WordPress VIP for Salesforce | WordPress VIP Partner Awards
---