We have released a new version 1.3.5 of activeCollab Gitolite module.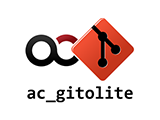 Features:
New Setup Wizard – This will be useful mainly for new users.
Faster & Scalable – creation of new repo is faster now, even if you have 700+ repos. Earlier on our setup with 700+ repos, it was taking around 2 minute to create a new repo. Now it takes around 8-9 seconds only.
activeCollab 3.3 compatible – activeCollab 3.3 beta is already here. We don't know when final release will be out but ac_gitolite module is already updated for it now.
If you are using the old version of our module, then please download updated version from my account section. We hope to release automatic-update once activeCollab 3.3 final version gets released.
For future activeCollab updates, please subscribe here.
Links: Download activeCollab-Gitolite 1.3.5 | Buy activeCollab-Gitolite
---