Since launch of our first activeCollab-gitolite module, we have released 3 updates in last 3 months to the same module. As we are super-busy with some other commitments we failed to update this blog in timely manner with all updates.
New Features Added to activeCollab-Gitolite Module:
Remote Gitolite Support (v 1.1)
Earlier version of ac_gitolite module required that gitolite server to be present on local machine. Now we have added support for remote gitolite server.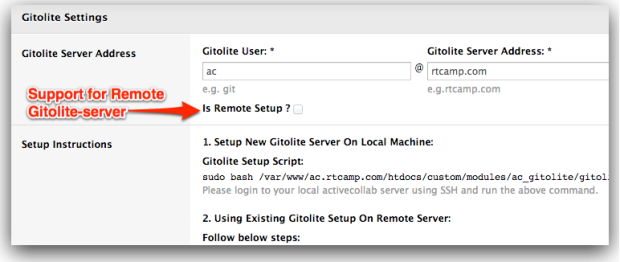 Webhook Support (v 1.2)
You can now specify one or more webhook endpoint URLs per activeCollab repository. This means whenever anyone performs git push, you can trigger a script on a remote server for things like "git pull", continuous integration (CI) or anything else you can imagine!
Clone Remote Repository (v 1.3)
You can now clone repos from Github, Bitbucket, etc. This option also support cloning private repos as long as SSH-keys for PHP's linux user is present in repo repo.


Apart from above new features, we have fixed many-bugs so upgrading is highly recommended if you are running older version of ac_gitolite module.
To check current version you are using, please log into your activeCollab, go to Administration >> Modules screen. You will see a line like AC Gitolite Interface, v1.x there. If version is less than upgrading is highly recommended.
How to get updated module codes:
Customers who have registered while making a purchase, can login here – https://rtcamp.com/my-account/ to get most recent version of activeCollab-gitolite module.
If you have purchased without registering, please forward order-confirmation email to support@rtcamp.com. We will reply with you updated code.
Soon we will add support for automatic updates. Till then please bear with manual-updates.
We are working on FTP-based deployment. More details about it can be found here.
If you have any questions, feel free to use our support forum.
Link: activeCollab-Gitolite Module
---