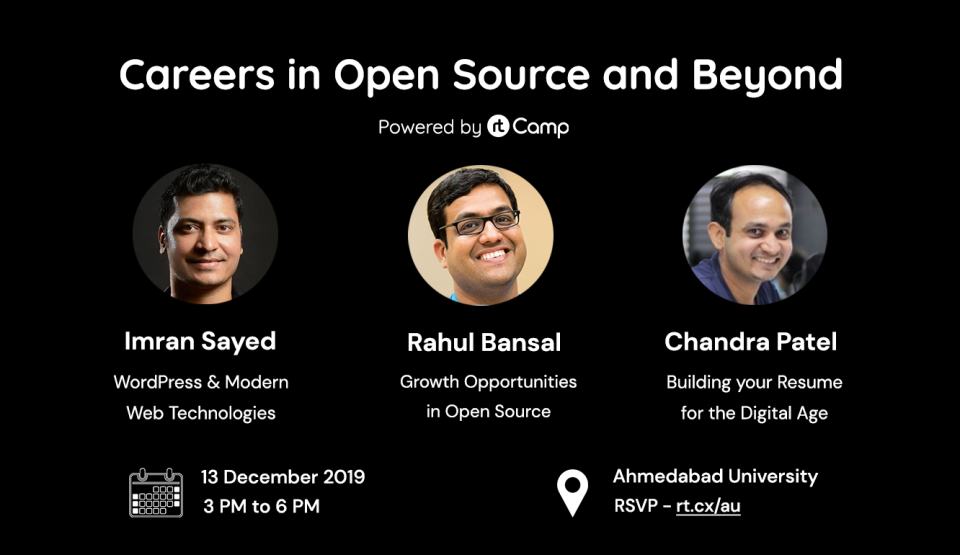 We are happy to announce that rtCamp will be hosting an event to help folks learn about "Careers in Open Source and Beyond" in collaboration with the Career Development Centre, Ahmedabad University and the Programming Club.
This event is free of cost and open for everyone to attend.
The event will be hosted just a day before WordCamp Ahmedabad and open to everyone including students, freshers, and professionals.
The goal of this event is to help aspiring developers and engineers get started on the right path to building a successful career in the open-source ecosystem. The event will cover technical as well as non-technical aspects. So, even if you do not know any programming language, you still have plenty of career opportunities in open-source as we will be explaining in the event.
Event Outline
This is going to be a three-hour event where the initial two hours will have the following talks:
Rahul Bansal (Founder & CEO) will talk about "Growth Opportunities in Open Source".
Chandra Patel (Director of Engineering) will talk about "Building your Resume for the Digital Age"
Imran Sayed (Senior Web Developer) will talk about "WordPress and Modern Web Technologies"
You are encouraged to ask any questions you have during the talk but we have reserved one dedicated hour after the talk for networking, 1-on-1 Q&A, and refreshments.
RSVP
The event will be held on 13 December 2019 from 3 PM to 6 PM at Ahmedabad University, GICT Building, Central Campus, Gujarat (https://goo.gl/maps/JWUn1FrbUjMqqNRW8).
Please use this Google form for RSVP. RSVP is a must as we have limited space in the auditorium. Besides we need to plan for refreshments! 😉
Please note that your email/phone number collected through the RSVP form will only be used to communicate the necessary updates about the event.
In case you would like to stay in touch with rtCamp, you can subscribe to our newsletter and/or social media channels here.
Link: RSVP form for the event
---