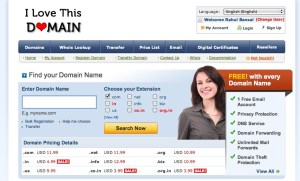 With launch of ILoveThisDomain.com today, rtCamp has entered into domain registration officially.
We wanted to launch this domain sometime in May-June 2010, but we received an email from our service provider mentioning that they are running a promo till March 31st, during which many gTLD's and cTLD's will be available at discounted price.
We thought its good to pass-on this to our readers so we launched this portal in hush-rush. You can get discounted pricing like:
.COM for $5.99
.IN, CO.IN, .ORG.IN for $3.99
.INFO for $6.99
You can check complete pricing table here.
In near feature, we will be relaunching it with added features like payments via netbanking (specially for Indian customers), better user interface, etc. Accounts created by you will be moved to relaunched portal automatically.
Link: I Love This Domain
---