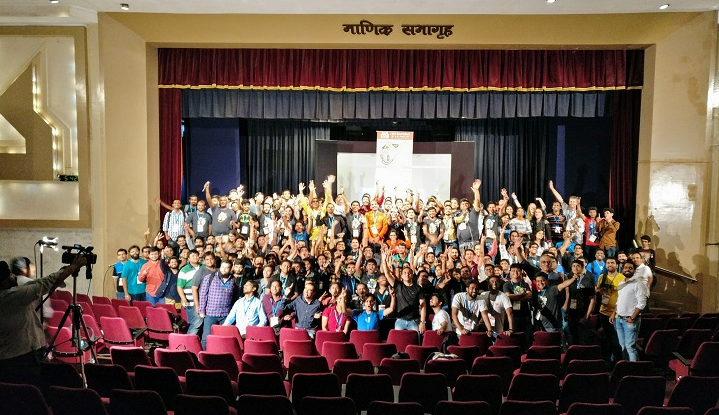 We traveled to our state capital of Mumbai for a WordCamp over the last weekend of March. Through the years, WCMumbai has been the source of some of our fondest memories.
#WCMumbai 2017
The vibrant and active WordPress community in Mumbai attracted some of the most enthusiastic attendees. The networking areas were buzzing with conversation at every break.
One of the most striking things about this WordCamp was the diversity; attendees included students, entrepreneurs and freelancers from various disciplines. We enjoyed interacting with other WordPressers as much as we enjoyed the sessions across the two days.
Another genuinely noteworthy achievement was the ticket prices. The organizers managed to greatly subsidize the ticket prices to the point where most tickets could be purchased for ₹250! That included entry, swag, two days' worth of meals, and full access to all the sessions. The ticket prices surely contributed to the level of inclusivity at the event.
Overall, the WordCamp was well organized- no major delays, the crowd was managed well and the venue was spacious. Even the projector didn't have any issues 😉
We are glad to see the hard work of the WCMumbai organizing team pay off. Our congratulations to the organizers, volunteers, speakers and attendees for being a part of the largest WordCamp in Indian history.
Head over to the Mumbai WordPress MeetUp group if you live in/around the area:
Thanks to everyone for attending #WCMumbai and making it awesome you can connect with us via meetup group https://t.co/lE1RH5MXA0 #WordPress

— WordCamp Mumbai (@WCMumbai) March 27, 2017
Camping in Mumbai
For the fourth year in a row, rtCamper Rahul Bansal spoke at WCMumbai. You can reach out to him via Twitter or the comments below for any follow-up. Here are his session's slides to help jog your memory 🙂
Unlike most other WordCamps, WCMumbai is a single track, two day event. This gave us ample time to hang out and travel around the city of Mumbai. Here are some of our experiences:
Come along on our next adventure!
Are you a motivated, fun-loving and passionate individual who wants to build something great? Have a look at our current openings and drop us a line- we would love to chat!
You can even meet us at one of the upcoming WordCamps- Nagpur, Kanpur, Delhi and Ahmedabad are all coming up! 😉
Links: Mumbai WordPress MeetUp group | Join the rtFamily | WCMumbai on Twitter
---