Hello there, and welcome to our monthly roundup.
With all the uncertainty in the air, Rahul, our CEO, sat down with Reid Peifer and Brian Krogsgard (from Modern tribe & Post Status, respectively) to chat about what lies ahead for agencies.
Some takeaways:
Agencies should regroup as best they can and continue doing good work with the belief that these hard times will pass. Don't stop building for the future.
Teams, regardless of the size, need to be managed with honesty, empathy and open communication if they are to meet their objectives.
Reach out to our clients, whose businesses are also affected, in order to understand how their immediate needs have changed.
You can access the full recording if you are a Post Status club member (and you should be!)
Virtual Meetups
Imran gave some insight on how we built a newsletter creation tool right within WordPress for Mortgage Bankers Association at the WordCamp for Publishers virtual meetup (hint: Gutenberg editor + WordPress' native CMS capabilities)
Imran & Chandra shared a few concepts that might come in handy the next time you come across a bug in your WordPress code, at the Pune WordPress community meetup.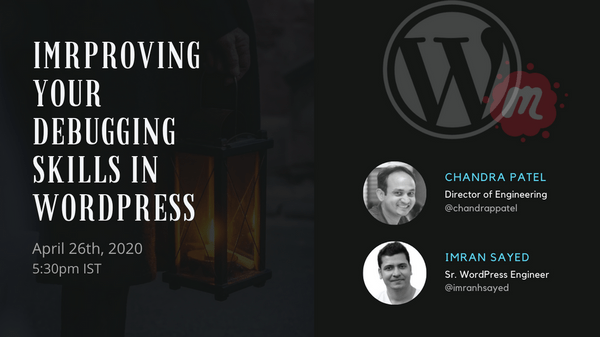 Releases
We released a new plugin – WP Menu Custom Fields – that leverages a couple of hooks introduced in WordPress 5.4. Read more here.
The release gave us an opportunity for introspection, as Chandra wrote: "This little incident was an excellent reminder of the importance of questioning our assumptions or risk losing touch with reality". Autoloading PHP Classes on Windows OS.
Our rtMedia team bumped rtMedia Core to v4.6.3, with the usual updates and fixes. They also updated rtMedia BuddyPress Profile Picture, a premium add-on. Full changelogs are over on rtMedia's blog.
Links: Download WP Menu Custom Fields Plugin | Post Status Live
---