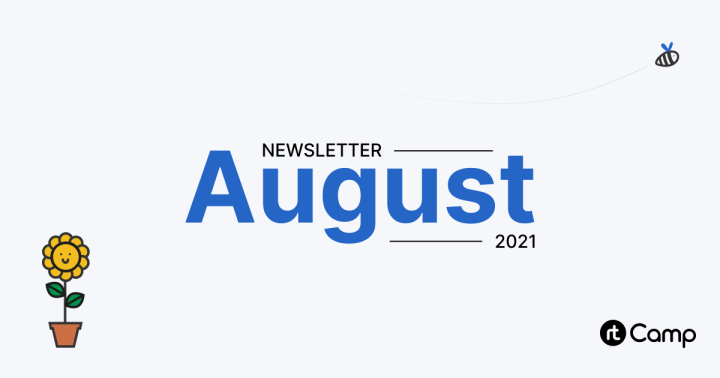 We're excited to announce that we've partnered with Digital River and WordPress VIP to offer a new service that will kickstart your brand's direct-to-consumer efforts. Are you a brand looking to implement an end-to-end brand experience for your customers? Let's talk!
We've broken past the 100 rtCamper milestone and we're still hiring for several positions. Take a look, or tell a friend!
Insights
The Classic Editor plugin will be supported through 2022, instead of until 2021. This is to allow some additional time for website owners to continue using the older legacy editor while figuring out a transition to Gutenberg, which is getting more powerful, stable and polished by the day. WordPress.org has a section dedicated to Gutenberg updates and improvements.
Contact us for what Gutenberg can do for your business.
News from Around the Web
Automattic, Inc has acquired Frontity, an open-source REACT framework for WordPress. The entire Frontity team will now work full-time on the WordPress project particularly with a focus on developer experience, frontend tooling, WordPress Core UX.
Visual Studio Code is now available as a web-based editor for GitHub repos. To see it in action, simply press the period (.) key while browsing any repository (or replace "github.com" from the URL to "github.dev")
GitHub: Git password authentication is shutting down. Cue gravestone meme "Passwd gone, missed by hackers and thieves. Lived well beyond its time."
Yoast, one of the most popular SEO plugins for WordPress, has joined Newfold Digital.
Water Cooler
Popular on our #watercooler Slack channel.
Most Advanced Yet Acceptable (MAYA) is design and marketing thinking. It's the art of straddling the line between your consumers' curiosity about new things and their fear of anything too new. Interesting idea.
Did you know that Google Meet has a progressive web app (PWA) that you can download to your computer, just like any other application? Easier to teach your grandma to click an icon from the safety of her desktop than navigate an internet browser everytime she wants some facetime.
Check out this series by Rich Tabor on standardizing different parts of a theme using theme.json.
That's all, see you next month!
Links: We're Hiring! | Get in touch with us
---