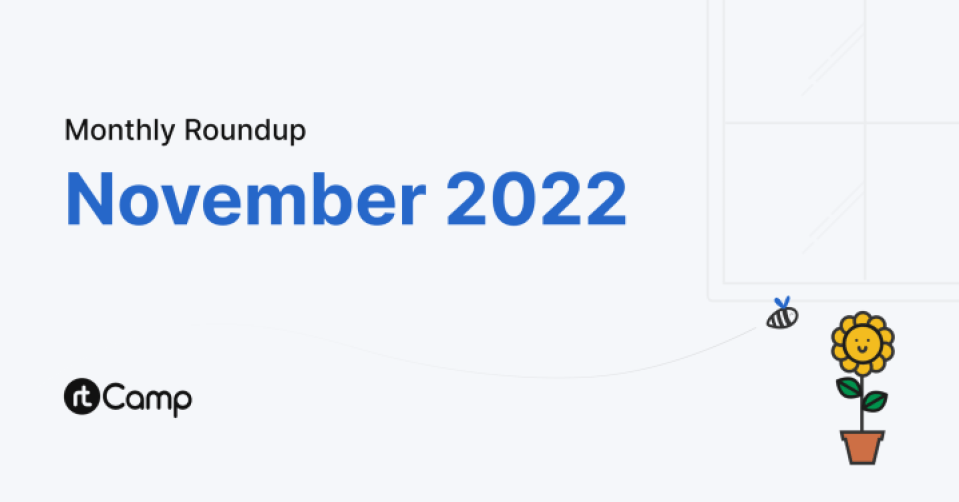 Hey there!
As you might already know, we kicked off our most ambitious hiring drive last month. Now, with more than 20 institutions visited and thousands of students entering our process, we've decided to tweak the program.
The tl;dr is that we're hitting pause on a WordPress assignment being an entryway into our hiring funnel. This leaves our on-campus events as the only means of entering our fresher hiring pipeline at this time. If your college is not a part of our current network, you can request your Training and Placement Office to enroll. Read about why we felt the need to make this change in this blog post.
In other news, we've strapped on a new feature to the WordPress Plugin Compare tool –  instant search with autocomplete. You can read more about the integration here.
Events
WordPress News Snippets
After much deliberation, the WordPress.org community zeroed in on Site Editor as the new name for FSE (full site editing). It's straightforward, obviously suggestive of its function, and better translatable into different languages. We had a similar discussion internally while writing a blog post a couple of months ago, and resonate with the need for a unified name for this feature set, that will be central to the WordPress experience going forward.
From Around the Web
According to this year's GitHub Octoverse report, which mainly explores the impact of open-source on the world—about 90% of Fortune 100 companies utilize open-source software in their tech stack. 413 million open-source software contributions have been made until November this year on GitHub, which boasts about 94 million users. At the GitHub Universe conference, they announced the 'Hey, GitHub!' feature for Copilot, their experiment with voice-enabled coding.
After running virtual conferences, WordPress VIP re-launched the BigWP event in-person, for the first time after the pandemic. It was held on November 3 in Brooklyn, US. Watch the flash talks on YouTube, for insights on the state of Enterprise WordPress. The next BigWP in 2023 is set to be in London.
In light of recent rulings regarding GDPR in Europe, Fonts Plugin has launched the Google Fonts Checker tool to help websites check if their fonts are hosted locally.
WooCommerce 7.1.0 was released with a slew of new features, including product spotlight tour, new block patterns, cross-sells on cart-block, and more.
Water Cooler
Popular on our #watercooler Slack channel.
That's all, see you next month!

Links: Contact Us | We're Hiring! | Our Work
---