This morning rtCampers have a reason to celebrate! 🙂
Our beloved web design of our own site https://rtcamp.com/ has featured in prestigious WPBeginner's Gallery!
About WPBeginner Gallery
WPBeginner gallery is a recently launched portal from WPBeginner. Goal of this gallery is to feature beautifully designed websites running on WordPress.
WPBeginner itself is one of topmost WordPress resources site founded by Syed Balkhi. You can read more about WPBeginner here.
About rtCamp's webdesign
Many people think rtCamp's website "look" is heavy and based entirely on flash. But the truth is, it is made using pure web standards like JavaScript & CSS! On backend, it is all WordPress. It's painful to imagine building our home without using WordPress!
Another fact is, Yahoo's YSlow & Google's PageSpeed benchmarks gives better rankings to rtCamp.com's homepage as compared to Google.com's homepage. Sounds unbelievable? See the proof here! 😉
rtCamp @your service!
We design & code every WordPress site/blog with same passion & creativity, as we had put in our very own theme. Apart from designing, we are very good at running high-traffic websites and server-optimization.
You can get to know about all our services here! 🙂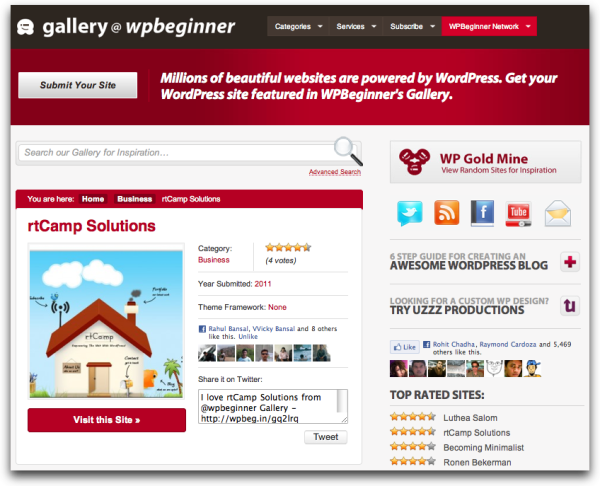 ---