A great start
The most delightful news this month was that of rtCamper Faishal appearing in the list of fine folks who contributed towards the release of WordPress 3.6 on the 1st of August.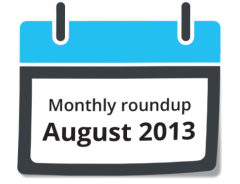 Early during August, a new minor version of the activeCollab-Gitolite module was released by us, making the module compatible with activeCollab 4.0.7.
Enhancing rtMedia
After the launch of rtMedia 3.0 (formerly, BuddyPress-Media) during mid-July, our developers quickly got back into action after a brief celebration – our widely loved plugin not only saw a flurry of minor updates, but also a few major feature inclusions.
Media lightboxes with profile pictures
A top new feature places profile pictures next to uploaded media when they are opened in their respective lightboxes. We are grateful to Richard Ellis for sponsoring this.
Page redirection for media uploads
And there was another new rtMedia feature that redirects pages whenever one or more media elements are uploaded. This time, it was Henry Wright who helped us build this through his second sponsorship for rtMedia.
The rise of WordPress-Nginx services
For the first time during the span of a month, the number of customers opting in for our WordPress-Nginx services rose to double digits. We foresee an interesting road ahead for both our services and WordPress-Nginx managed hosting solutions.
And as for our domain and hosting services, August presented some exciting offers for both our global and Indian customers. We are pleased with the response. Just keep an eye out for more!
With the coming of September, there are some big new announcements on the cards. Stay tuned!
Links: Subscribe to updates | Obtain our domain/hosting services | Check out our WordPress-Nginx services | Check out our WordPress-Nginx managed hosting solutions
---