rtCamp was founded in 2009 as a traditional "work-from-office" company. As we grew, we expanded our office space twice.
Around 2014, as a response to further growth in terms of personnel and processes, we started investigating if we could be more distributed as a company.
Fast forward to late 2019, and ~80% of rtCamp worked remotely on a daily basis, with the remaining ~20% independently deciding whether they wanted to work from home or drive to the office at the start of each day.
Come last week, and after nearly 5 years of transition, COVID-19 played a catalyst to rtCamp going 100% remote. It was a birthday surprise. We still use our office, but we think of it more as a co-working space for meetups, meetings & entertainment.
While for us, moving to remote was a 5-year process, many businesses around us are forced to go remote with not even 5 days of notice. So we thought we'd share a few things that helped us get remote work right.
Trust is the starting point
The bedrock of remote work is mutual trust. This has been said a 100 times, but without it, the magical shared experience of distributed work is completely lost.
We will concede that in the initial stages of the transition to remote work, productivity levels might fall. But continue with patience & keep investing in accountability, and your team will get up to speed in no time (or more likely, go faster!)
One of the major offenders to this attitude of trust are companies that inflict screen tracking software on their employees. This is so dehumanizing and removes the element of trust, replacing it with forced accountability.
💡 Remember, people don't come in expecting to do bad work.
Async communication is key
In an office, verbal communication is king. While video conferencing solutions can provide a level of this, nothing exists yet that can replicate body language cues and the immediacy of face to face communication.
Real-time communication tools like Slack, Hangouts & Skype provide immediacy but can be severely distracting. They also make it hard to track decisions buried in the walls of text.
Video conference tools (Zoom, Skype, Hangouts) provide more natural communication but aren't as inclusive of people working across time zones or schedules. They also don't "self-document" like group chats for future reference.
💡 Based on our experience, we recommend the following ground rules:
Avoid using Slack DM's when having discussions relevant to your whole team
After video calls, make sure to share the discussion points and outcomes via a short bulleted document
Lean heavily on project management tools. When defining tasks, clearly communicate the course of action to avoid misinterpretation. A single misunderstanding can introduce a lot of chaos. (Our standing rule: no written task == no expectation of action.)
Use tools that can automatically keep track of progress. Slack bots and app integrations are a great example, acting as a kind of RSS feed for your team. (BTW, Slack is offering a heavily discounted price for Indian companies.)
Physical distancing ≠ Social distancing

Ask any distributed team and they will likely bring up some form of loneliness as the main downside of remote work.
If your company is used to regular physical meetups (that involve party games, viral internet trends, gift-giving, and/or pizza) we recommend moving to a platform like Zoom that allows team-wide virtual meetups.
💡 In addition, all of the following contribute to a sense of connectedness and social contact:
using open-ended communication formats like Q&A & team-wise presentations so that everyone has a chance to speak
Meeting OWL or similar such tools
distributing gifts via Amazon or Flipkart
remote-friendly team games like Kahoot!
a dedicated channel on your Slack to plan weekend activities, road trips and general non-work conversations (#watercooler)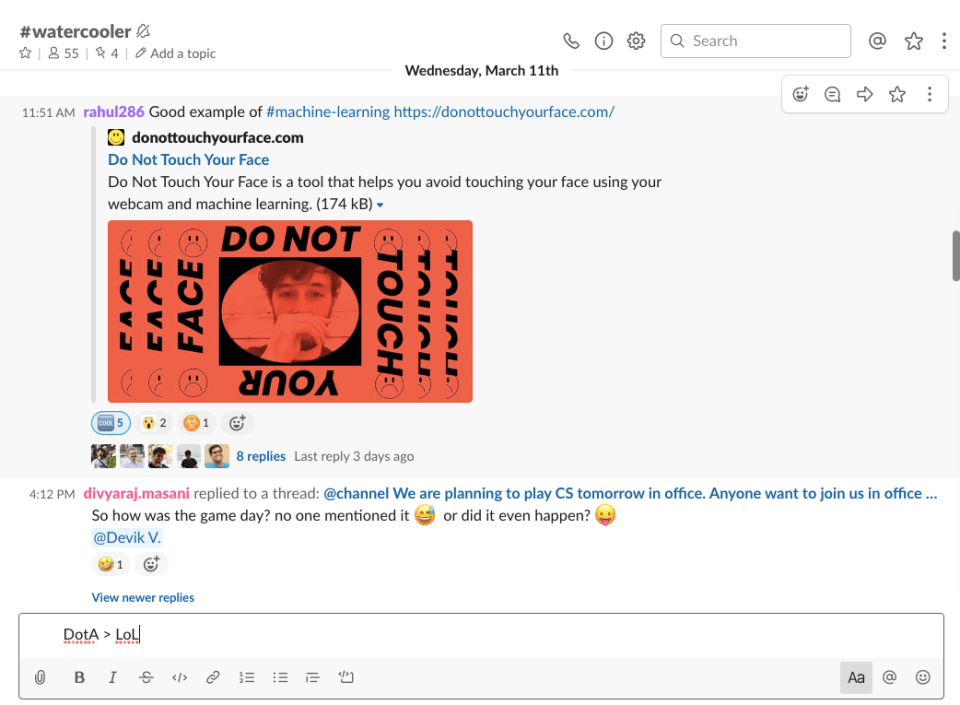 Department-specific advice
Engineering Teams
In all likelihood, your source code lives on Github/Gitlab or an equivalent. If so, congratulations, you are already remote-ready!
💡 We recommend:
starting daily standups at the start of the day and check-ins at the end of the day if you don't already do so
checking if you can connect your source control platform to your team communication tools (like Slack) for automated real-time updates
moving servers and/or internal dev sites hosted in your office to cloud hosting as your office internet latency might bottleneck your team.
Sales & Marketing
We use Pipedrive as our CRM, which is connected to our Slack. This allows us to asynchronously track the progress of all our Sales activities.
We use the G Suite as our primary storage and collaboration tool for documents. This way, all client-specific documentation is arranged & accessible to our entire Sales team through a relevant subfolder in Google Drive.
💡 We also recommend:
using dedicated Google Docs as scratchpads. These docs, bookmarked by the whole team, are where you can collaborate on social media posts and other short-form communication
task-based tools like Trello, Jira or Asana to track marketing campaigns and ad-hoc tasks.
HR & Accounting
This is the toughest department to make paperless, and thus, separate from the office.
Most administrative documents need to be paper signed as e-signatures using tools like HelloSign are not considered valid, legally binding documents in India. (We do, however, use Hellosign for most paperwork pertaining to our US entity.)
We manage cheque payments via Virtual Post Mail, that handles forwarding to our US bank account for a very reasonable fee.
💡 If you are looking to go remote in the long term, we'd suggest equipping one or more of your team members with a printer, scanner, company rubber stamps, company letterheads & other stationery so they can handle physical paperwork.
India-specific advice
Many Indian IT service companies have a multilingual work culture where external communication happens in English but internal communication is in a local language. (It's quite common to hear Hindi, Marathi, and Gujarati mixed in with English at rtCamp.)
For people who are used to verbal communication in an office setting, text-only comms can be a hard transition because of both the medium and the language change.
A common way that people deal with this change, at least in the initial stages of going remote, is by jumping on frequent 1-on-1 audio/video calls. This not only breaks the asynchronous ideal of remote work but also results in detached conversations that are hard to track.
💡 The solution is to encourage textual communication, if not directly, then via documented agenda and outcomes, posted immediately after every call on the relevant team channel. These documents don't have to be fancy, just a couple of headers with bullet points under them.
And speaking of textual communication, we highly recommend using emoji liberally 😎 🙌 💃. Not only do they brighten up conversations, but they also act like body language cues 💁‍♀️
Another common problem is that of setup and infrastructure. While access to high-speed internet access is not a barrier in urban India, the quality of connectivity is more important. Broadband Wifi is the standard for fast, stable connections, but mobile hotspots can work in a pinch.
Not everyone might have a home office at their residence. However, all you need to get started is a quiet, private nook with good internet access and a plug point. Laptop webcams are adequate in well-lit environments and inline earphone mics do a reasonable job in quieter rooms. These are the bare minimum though, and we'd recommend dedicated hardware & setup if you find remote work working a bit too well for your team 😜
Look, the glass is half full!
With the self-quarantine recommended around the world, many people have canceled their vacation plans post-January 2020. However, since most businesses reset their employees' leave allowance at the end of March, people are forced to either spend their vacation time at home or entirely forfeit their paid leave.
We actually flipped the situation around by offering all rtCampers the option to cancel their leave requests and carry forward their leave balance. This way, we could clear internal backlogs, improve our processes and learn new things in a time of reduced demand, all while keeping morale up.
This win-win situation would not have been possible if our team was confined to a physical office.
Another silver lining: if you manage to transition to remote during these tough times, you will be remote-ready forever, opening your company up to an Earth-sized talent pool 🌎
Have Questions?
Though a lot of the groundwork was in place before COVID-19, we still had to put some time in ensuring that our transition to 100% remote was seamless.
This is probably an even harder proposition for companies that are not as experienced with distributed teams. We hope this post is helpful for those companies.
In times of uncertainty and fear like these, we want to do everything we can to help agencies and businesses embrace remote work as a means to get back to productivity.
To that end, I (Rahul) and a few other rtCampers will be hosting a Zoom call on Friday at 7 PM (in your timezone) via https://zoom.us/j/626865761 (no sign-up email required.) Drop by if you have any questions, and we'd be more than happy to help.
Update: We are hosting another Zoom call at 6 PM IST on March 24 (Tuesday) via Zoom https://zoom.us/j/331745124. Again no signup or registration is required.
Please feel free to reach out via email or the comments if you have any questions; we'd be more than happy to help in any way we can.
All the best, and stay safe!
Link: Get in touch via email 📧
---