Due to a lot of spam entries, all the links on this page have been disabled.

If you feel you have a strong referral, you can share their resume along with any other details like links to their GitHub profile, WordPress.org profile, LinkedIn profile, etc. on hr@rtcamp.com. 

You will receive the benefits of the Refer-a-Friend Program for every successful referral.
Over the years, we have had several well-wishers refer prospective job candidates our way. They are part of the reason why we have grown to over 75 amazing rtCampers. Till now, we had no formal way to express our gratitude.
So starting today, we are now offering US$1000 for every successful referral.
The payout applies for all our current openings.
How you can help us
We believe that your friends would love our work culture and appreciate our good karma. All you need to do is point them towards one of our openings.
In return, you will have the pleasure of helping someone you know to find the amazing growth opportunities that await them at rtCamp.
Apart from earning good karma, and you will get a decent cash reward, with gratitude from rtCamp. 🙇
How to get started
Head over to our careers site and register for an account. This account is how you can keep track of referrals,
This account is required to keep track of referrals, payouts, and other useful data.
From referral dashboard, you can generate a unique referral URL for any of our current openings.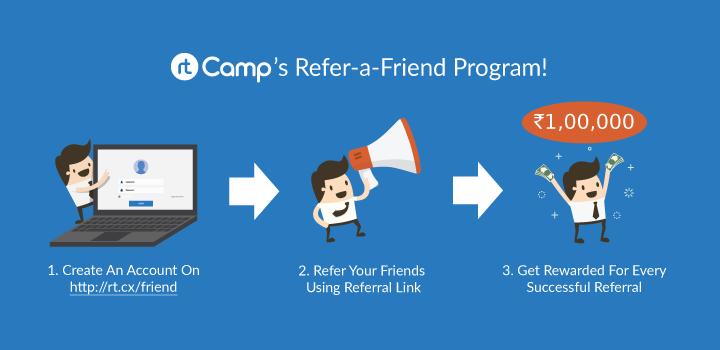 We will reward you every time a candidate referred by you successfully completes their training/probation period. The karma that comes with helping a friend is yours regardless! 🎉
Links: Refer-a-Friend Program | Careers Site | Referral Dashboard
---