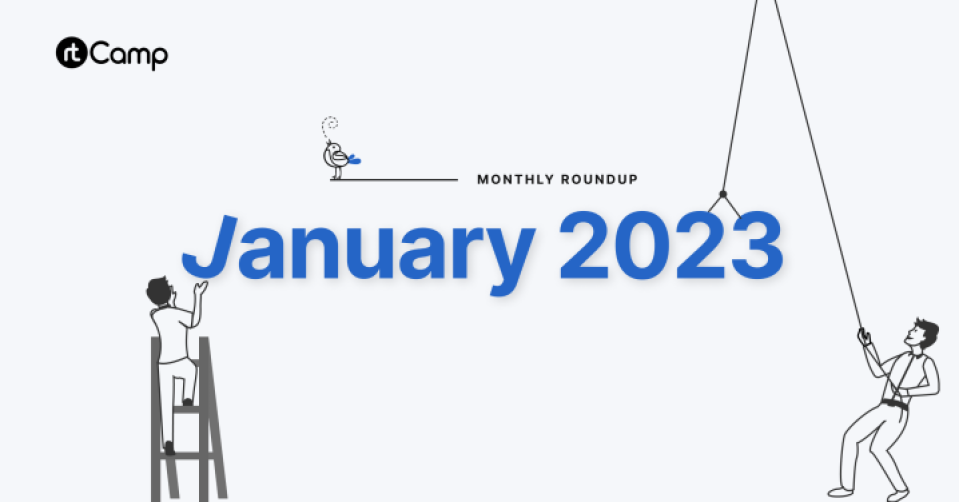 Hello folks 👋
We hope you had a great start this year. Our January was action-packed as rtCampers gathered for rtParty 2023 🎉
Following our campus hiring drive spanning from October through December 2022, we onboarded 23 new trainees for our January batch, and are very excited to see what our fresh talent brings to the table, as we grow together. We also launched our Express Campus 3.0 which started on 23rd January 2023.
Our QA team has launched API Playwright Utils – a test automation framework built on Playwright. It includes custom utils for all kinds of test cases and streamlines web application deployment. Go through its rundown here. Along the same lines, you can also check out our previously launched Visual Automation framework. If you're looking to explore test automation or have other QA needs, you can explore our range of services, or just start a conversation with us!
From July 2023, Google will discontinue standard Universal Analytics properties, meaning websites will have to inevitably move to Google Analytics 4. Read about the different options available to you as a switch-up guide for the GA4 transition on our blog.
We're set for an abuzz trip to Asia's first flagship WordCamp, happening on 17-19 February 2023, in Bangkok, Thailand. If you're attending, do check out rtCampers Prasad Nevase and Rahi Prajapati's talks on 'Using WordPress.org APIs for community' and 'Getting your designer ready for Gutenberg'. Or you could just holler when you find us at our booth, we're always up for a conversation 🙌
WordPress News Snippets
From Around the Web
Events
Water Cooler
Popular on our #watercooler Slack channel.
Links: Contact Us | We're Hiring! | Our Work
---