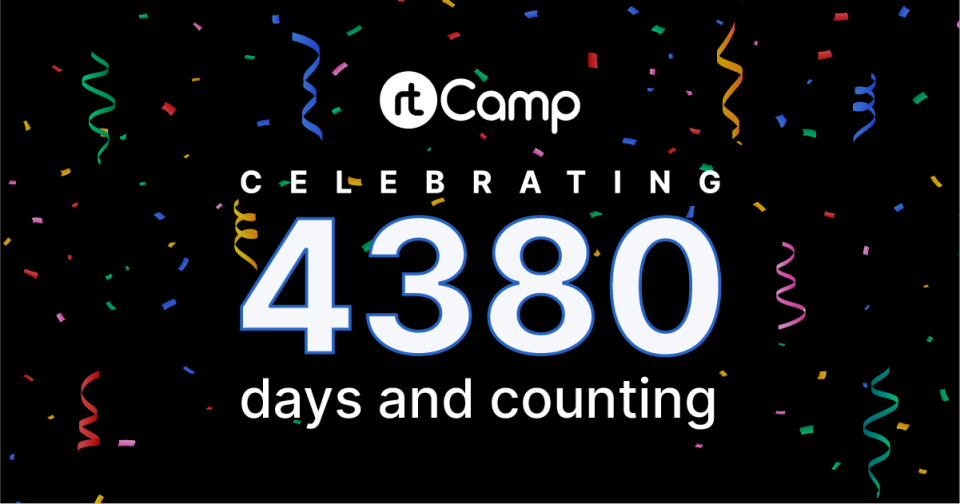 The general wisdom around a business is that if it survives for a thousand days, it will thrive and succeed. Today, rtCamp completes four thousand three hundred and eighty-three days: a dozen years full of ups and downs, great camaraderie, and a group of good people with decades of combined experience.
We choose to build the company's business around WordPress because OSS was the most accessible to us. WordPress particularly because it was the easiest to contribute towards and get involved with. Today, we have contributed to 22 consecutive releases of WP, as well as released several more projects. We also believe that open source has a stronger business case than closed or proprietary solutions.
By 2016, we signed up as a WordPress VIP Gold agency partner. This allowed us access to and leads from some of the top brands of the world. At the time, rtCamp was the first VIP partner from Asia, a testament to how far we'd come.
While we knew we wrote good code & did good work, the demands of working with big clients were new to us. But rtCamp's maturing group of leads managed to again learn, automate and cushion those changes while retaining the casual but committed work culture, even as clients and stakes became higher and more complicated.
In these 12 years that have flown by, rtCamp has assembled an amazing team of people who have been around for a long time. This maturity has been rtCamp's strongest forte.
Over 10% of rtCampers have been around for more than 10 years. Over 29% of rtCampers have been around for more than 5 years, and a further 10% will complete 5 years with rtCamp in 2021.
At the same time we continue to bring in new talent and ideas. We continue to teach and learn through projects like learn.rtcamp.com. We're still doing good work and have great partnerships with our clients. Giving back to the community is still a focus. Our processes are constantly evolving.
2020 put a lot of stress on our systems. While moving to a 100% distributed setup was not a big issue since 80% of our staff was already working remotely, the stress was felt through the anxiety of being in the midst of hard lockdowns and the difficulties and inaccessibility that come with that. Throughout this pandemic, we saw rtCampers pull each other up to keep everyone in good spirits. The pandemic is not over but we look forward to a new normal, knowing that we can handle just about anything coming our way.
As we complete a dozen years, we are looking forward to a dozen more. Thank you for being a part of our journey.
---