rtPanel is all about the faster and efficient performance with optimized codes. We are glad to announce rtSocial plugin as an extension to our commitment.
rtSocial is a social sharing plugin, which offers Facebook and Twitter buttons with different styles, alignments and manual placements options.
The USP:
Unlike traditional social sharing buttons, which loads the iframe and these iframes increases page-size and slows-down your website. rtSocial has found a new way to do that.
rtSocial uses non blocking JavaScript to get all the data in one shot, and injects them in the mark-up. And as it uses a single sprite with all the images required, hence eliminating the need to load the images from the service provider's CDN. It makes it more efficient and loads faster. 🙂
Features:
1. Placements: You can choose the options to place the buttons as per your own desires. We have provided options for Top, Bottom and Manual placements of sharing buttons.
2. Buttons Style: You can select the button style as per desired alignment.

3. Twitter and Facebook Button Settings: You can choose the respective settings for Facebook and Twitter buttons. For twitter you can provide both mail twitter handle and related handle.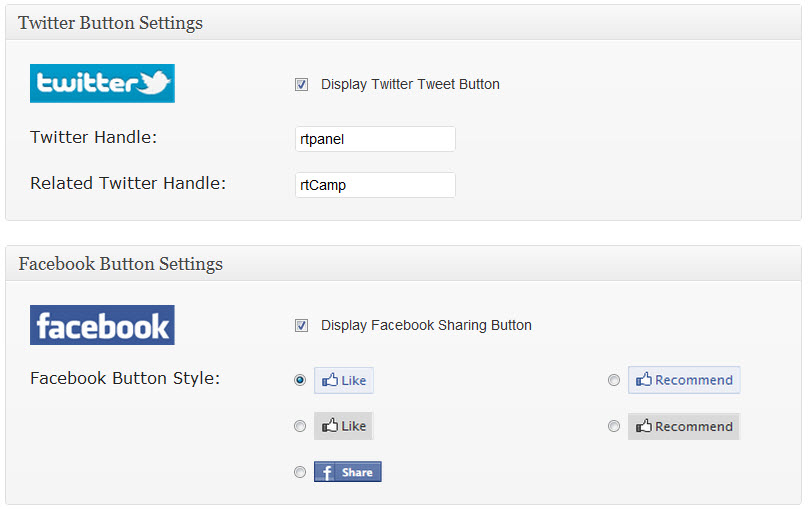 We are using this plugin in our own blog network and it works awesome. Use of Social Sharing Buttons are more efficient, faster and better with rtSocial.
rtSocial plugin is compatible with all WordPress themes and Theme Frameworks.
We are awaiting feedback and experience from users. For any questions, suggestions and support, visit our Support Forum.
Cheers.
Important Links:
---