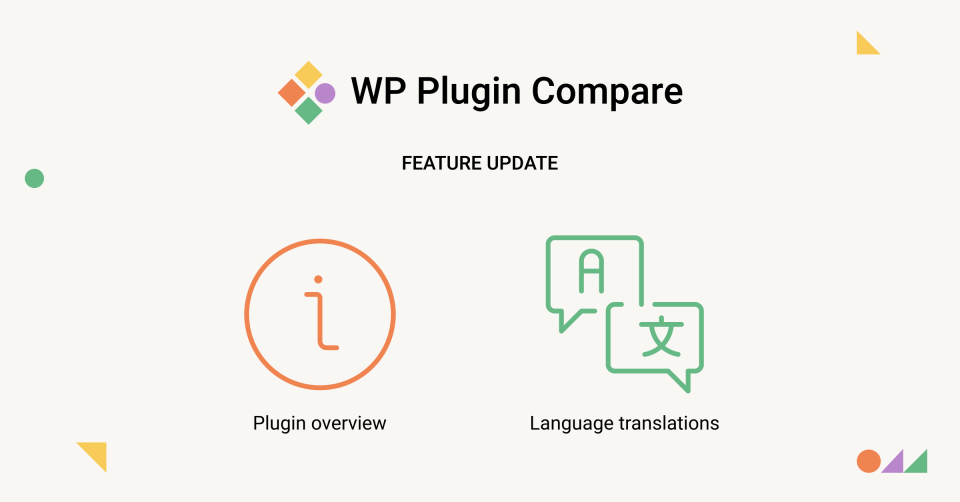 Since introducing the WordPress Plugin Compare (WPPC) tool, we have built it in the open, gradually adding features as we go. After our recent instant search integration, we have two new strap-ons in our latest iteration. WPPC now lets you get a quick overview of plugins being compared, and the language translations supported by each plugin.
We have envisioned WPPC to be your companion in selecting the best-fitting plugins for your website's specific set of needs. As road mapped in the release post, we've introduced the most popular plugin comparisons, handily available on the homepage. A separate filter page for sifting across 59k+ plugins, and surfacing the ones matching your selected criteria. Followed by a central integration on the homepage, an instant search with autocomplete.
With our latest release, the ability to check the plugins' overview/description on the compare page, is just a hover away. To catch a quick glance at the overview, a hover over the ℹ️ icon does it. For a detailed description, you can click on the title bar and a window pops up. The arrows in this description window can be used to navigate across the overviews of all the plugins in the table. Tagging along, we have another new addition to the comparison table called Languages Supported. It allows you to check the list of supported languages by a given plugin, for a well-rounded comparison taking your website's language needs into account.
Give WPPC a spin and if you have any suggestions or ideas, drop them in our comments. Our WPPC project has been growing in features and usage. You can track its journey on our blog. If you're interested in such projects or want to discuss how technical functionality and user convenience converge while building and optimizing a WordPress project, let's talk 🤝

Links: WP Plugin Compare | Our Work
---