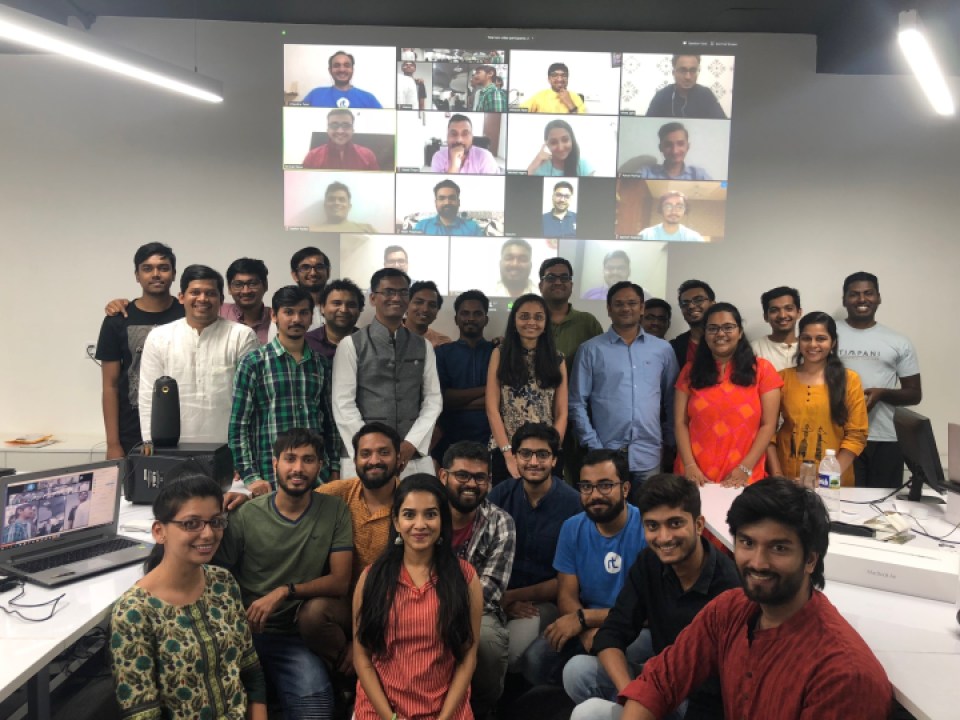 👋 Hello, everyone! Here's wishing you all a very happy new year! 🍻
2018 has been a year full of transformations – from major client launches to gainful WordPress events, we saw numerous significant developments take place this year! As this action-packed year nears an end, we'd love to tell you about all the memorable events that made our year special. 😇
Our major driving force this year has been 'focus'. We wanted to invest more of our skills and resources into refining our processes, strategies and attitude in order to make life easy and get the maximum output for our efforts.
Although we are going to turn 10 years old in 2019, it still feels like we are a startup that is continuously transforming and evolving. With our focus and principles intact, we are aiming to be at the top of our game
Our 9th Birthday 🎂
We embarked on our transformation journey with our 9th birthday celebration in Goa, in the month of March. Apart from enjoying an amazing weekend trip, we reflected on how our company had flourished and were buoyant about a future full of continued hard work and perseverance.
Our New Office – 'rt3' 🏢
We inaugurated and moved to our new office space earlier, which was code-named 'rt3'. The new office has a seating capacity of more than 80 people, which is more than the combined space of our two previous offices!
Ironically, 2018 became the year where the number of people working from home/remote locations surpassed the number of people working from the office. Yes, we are now 60% remote and we are hiring globally. 🤗
Pit Stop 🏁
In June, Automattic profiled us as a part of the featured partner program series. They asked us some interesting questions that helped us ponder upon our journey so far. You can read our story here.
Client Work 🚀
This year, we expanded our enterprise clientele by on-boarding Facebook, LaterPay, La Patilla, MacDailyNews and a few more clients, including a sovereign wealth fund.
Besides that, we continued to serve and build relations with our existing clients such as Penske Media Corporation (PMC), Indian Express, Rotimatic, HCL and Vanguard throughout the year.
Events 🎉
Being in the WordPress ecosystem, it's hard not to be a part of any of the community events!
We sponsored a few local WordCamps, back home, in India & Asia such as Udaipur, Bangkok, Nagpur, Kochi and Ahmedabad. At the same time, we also traveled across the world to attend the largest ones — WordCamp Europe and WordCamp US. Besides that, we also contributed as speakers, sponsors and volunteers at some WordCamps.
Besides WordCamps, our love for AMP and PWA led us to attend two events by Google. The first one was Google For India, where we learned about Google's initiatives for India.
Later, at the AMP Roadshow Mumbai 2018, Pradeep Sonawane, our VP – Engineering, presented a session on "AMP with WordPress".
Our passion for "WordPress in Education" led us to sponsor FOSSMeet, 2018 held at one of India's oldest engineering institutes — College Of Engineering, Pune (COEP). We conducted a WordPress related presentation there and interacted with young, talented students. 🎓
Giving Back to the Community ♻️
rtCampers contributed to WordPress, WP-CLI and other open source projects.
We also released some new projects and updates to some existing project.
Gutenberg Fields Middleware (GFM)
As early as April, we released Gutenberg Fields Middleware, which helps developers create custom Gutenberg blocks with lesser repetitive codes.
We used GFM to create a few custom blocks, for rtcamp.com, which is powered by Gutenberg since Gutenberg's beta days!
EasyEngine ⚙️
Just before 2018 ended, we released our most anticipated project EasyEngine v4 which was a complete rewrite of the project by all means including programming language, architecture and most importantly, the vision behind EasyEngine!
rtMedia 🎬
On the other hand, we have had a lot of new releases and updates for rtMedia themes, plugins and the transcoding service we provide for free to WordPress community. However, we couldn't push many big ideas that we had when the year began and we hope to fix that in 2019!
Automattic Design Awards 🏆
The year ended on a high note when our founder & CEO Rahul Bansal was invited to be a part of the jury for the Automattic Design Awards — the first design awards in the WordPress ecosystem. Check out the winners and finalists. 👈
Stay in Touch! 🤝
We have an exciting roadmap planned for the year 2019 and we'd love to share our stories with you! Do subscribe to our newsletter to make sure you don't miss out 🤗
Link: Subscribe to our newsletter
---