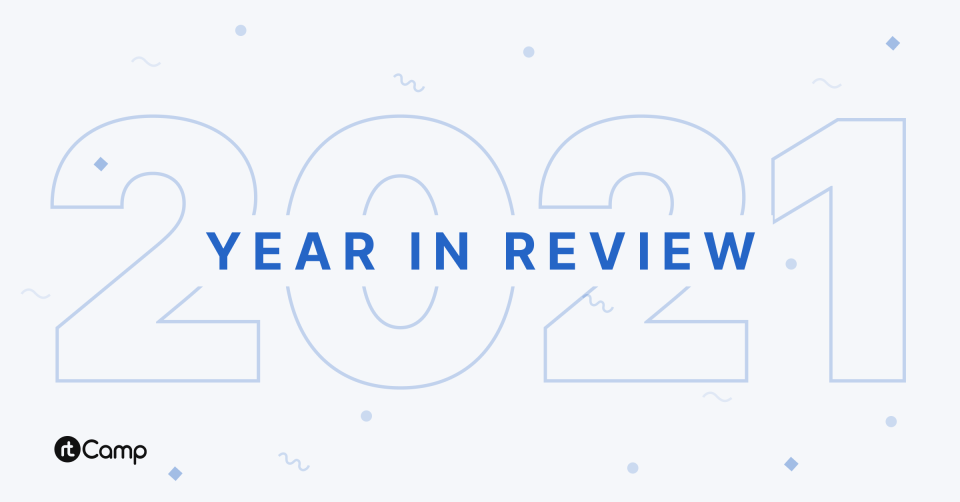 As the curtains drop on the year 2021 we look back on the year with lots of gratitude. It was a bit normal-ish than 2020, but the COVID-19 pandemic continued to challenge all of us around the world in various ways. As a company, we had a lot of small and big wins.
Here is a chronological round-up of what we did through 2021.
January
People generally start their day with breakfast. We started the year with breakfast with rtCampers! If you are not a fan of reading at the breakfast table, you can consume the same content in a web story format here.
We also had a few rtCampers take part at the online edition of WordCamp India 2021. Imran, Prasad and Muhammad were speakers and Imran along with your's truly (Aditya) also contributed as organizers.
February
March
We turned 12 in March. Apart from fun videos, rtCamp is known for its fun annual parties. Unfortunately for the second year in a row, we had to celebrate remotely.
Case StudiesOur work was featured as a case study about our approach to building AMP first websites on the official AMP-WP blog.
WordPress 5.7 was released in March. While a lot of attention was paid to much deserving block editor work, 5.7 made it easy to switch from HTTP to HTTPS. It was the 22nd consecutive release for us where rtCampers have contributed to the core.
April
May
June
July
August
September
While the entire year remained full of acquisitions for WordPress, in September LearnDash, the LMS that powers our training courses was acquired by LiquidWeb. LearnDash is also our client for whom we did some interesting work to automate developer documentation in the past.
October
We usually have January and July as months when our campus recruit batches join. Considering the disruption that COVID caused to university schedules across India, we had a one off freshers training batch in October.
November
December
We worked with the Unlock Protocol for their official WordPress plugin to bring an open source, Ethereum-based protocol designed to streamline membership benefits for online communities for 43% of the web.
We worked with Google and XWP to end the year with AMP 2.2 release that added Bento support among other things.
Let's do some Good Work together
As 2020 winded down, we planned a growth strategy that revolved around increased focus on hiring and training. We started the year around the mark of 70 folks and have ended the year near 110.
While 2021 was not exactly normal and the COVID-19 pandemic is still not over. Fingers crossed we hope we all have a much calmer and nicer year ahead.
Last but not least we are also currently hiring for several roles and we encourage you to apply and join us on our journey!
All of us at rtCamp want to wish you a very happy, safe, and joyous new year.🎉
---